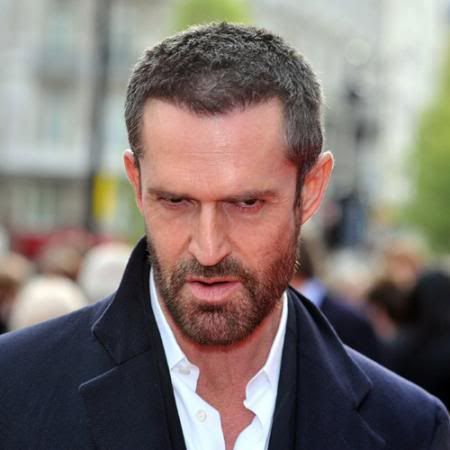 Out actor Rupert Everett has some harsh words for Americans, whom he describes as "whiny victims":
"I'm totally off the States now. ... The reaction to 9/11 and then George Bush - really, they've got very blobby as a nation. ... Now they (the Americans) are whiny victims whose language is entirely taken from two TV shows - Friends and Sex And The City - and there's nothing sexy about them any more. And that kind of semi-blindness about the rest of the world, which was attractive when America was exciting, is really unattractive now."
Friends and Sex and the City? I couldn't be more offended by that generalization, and I couldn't help but wonder what he means by "blobby".
Of course, this isn't the first time he's unleashed his tart tongue about Americans, especially our entertainers.
"George Clooney thinks that, provided he does films which are politically committed, he's allowed to do Ocean's 11, 12, and 13", he says. "But the Ocean's movies are a cancer to world culture. They're destroying us." And Clooney the man? "He's not the brightest spark on the boulevard. He'll be president one day. Mark my words, if he's straight, he'll be president."
De Niro, Redford, Keaton, Allen, Pacino ... They're all just tragic parodies of themselves. Al Pacino looks like a mad old freak now. I say give it a rest, or go and do some serious stuff..."
"The other day I saw a film called Because I Said So with Diane Keaton, and I thought, 'here's one of the women we loved most in 1970s cinema, debasing and humiliating herself in this load of trash'.
"Why? Because we're sheep, we just follow the herd ... It's just part of the huge amount of product that's put out now that's really bad. And it's our fault. We're all responsible for how the culture is. You can't draw a distinction between the celebrity nonsense on television and the film industry."
It's okay, Rupert, we still love you. You're like the eccentric gay uncle we like to visit on summer vacation, because you let us stay up late, eating bread pudding and regaling us with "stories".