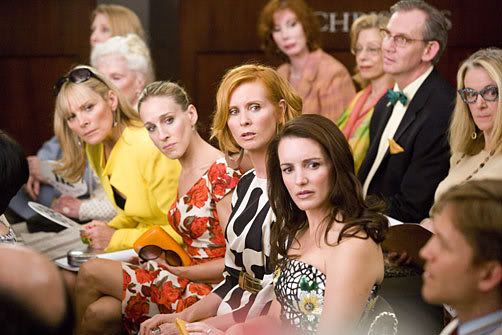 Major spoilers ahead! Don't continue reading until you've seen the new movie "Sex and the City" or don't care if you spoil anything!

Always eager to protect their fans, the cast of the "Sex and the City" movie and writer/director Michael Patrick King went to extraordinary lengths to keep much of the film's plot a secret. Now that the movie has hit theaters, here are some interesting tidbits about what didn't make it into the film, and more.

Yes, someone was meant to die: The original script for "Sex" featured the death of one of the show's characters, but, unlike tabloid speculation, it wasn't anyone in the main cast. Anne Meara, who played Steve's mom, was set to pass away in a scene meant to show that even though Steve (David Eigenberg) had cheated on Miranda (Cynthia Nixon), she still cared for him enough after their separation to visit her mother-in-law in the hospital. As for killing off any of his leading ladies, King dismissed the idea noting, "I care too much about each of these characters."

The original script would have been a much longer movie: A number of characters' story lines had to be dramatically cut, including one involving Charlotte's husband, Harry (Evan Handler), and the couple's 21-year-old nanny who seemingly never wore a bra. Christened "Erin Go Braless" by Samantha (Kim Cattrall), the character was meant to introduce a whole fear in Charlotte (Kristin Davis) about something happening to her (what that was wasn't revealed). Davis notes, "A couple of the things got cut time-wise. You just feel bad for the guys in our world. They're troupers about it."

Mr. Big wasn't the only flame of Carrie's to show up in the movie: With the movie "busting at the seams," King had to cut an "amazing scene" for John Corbett, who played Carrie's ex-boyfriend Aidan.

Blame Mr. Big for most of those crazy rumors: King admits they shot a number of fake scenes to try to divert attention from the film's true plot, but, even so, Chris Noth, who plays Carrie's love Mr. Big, found the paparazzi and press attention insanely desperate. When the movie was shooting in the streets of New York, he'd drop all sorts of false story lines to the overly eager reporters. Noth recalls, "I'd do things like suddenly go by a journalist and say, 'Yeah it's too bad that Carrie died!' [Or] 'It's all just a dream, isn't it. It's so much fun when she wakes up from the nightmare!'"

Cattrall says Samantha should be single: The movie ends with Carrie, Miranda and Charlotte happily married, but Samantha, once again, is playing the field. No one could be more satisfied with this than Cattrall, who always felt the character wasn't meant for a long-term relationship.

Good luck trying to stay at that Mexican resort the girls crash for Carrie's honeymoon: No, they weren't vacationing south of the border, it was a set created in the more production friendly confines of Malibu, Calif. Who knew?

Source: MSN Movies

I, for one, would have loved to see Aidan pop up in the movie, Y/N?