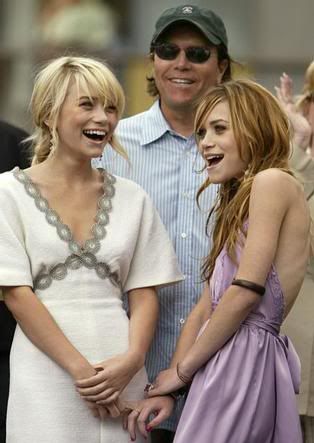 By Stephanie DuBois

No one - at least not since the halcyon days of a little moppet called Shirley Temple - has so brilliantly turned doe-eyed innocence into a cottage industry like America's favorite billionaire twins, Mary-Kate and Ashley Olsen. But America likes its sweethearts untainted, untarnished and untouchable - and innocence lost can never be regained.

The Olsen's company, Dualstar Entertainment Group, has been mining the $300 billion plus "tweens" market - kids 8-12 - since the company was founded when they were 6 years old. However, that tween market is looking less and less viable now that the girls have become scandal-plagued teens, with Mary-Kate succumbing to something so plebeian as anorexia and then being spotted out and about doing things like - Gasp! -- smoking in public. Those images are anathema to mothers desperate to hang on to positive role models for their urchins to emulate and death to the wholesome marketing image so important to the demographics of Wal-Mart, the biggest distributor of the Olsen's line.

Now Mary-Kate and Ashley have been seemingly drifting further and further apart. They reportedly moved into separate places and have subsequently been spotted around the globe sans one another, leading many to speculate about a rift between the two lovelies who were at one point never seen alone. Whether the young ladies are truly at odds or just trying to establish individual identities remains to be seen. However, the most pressing question is how these latest developments will affect the twins' myriad business ventures.


The mary-kateandashley brand is the most successful girls brand in America today producing reported annual revenues in excess of $1 billion. But their last film, "New York Minute," barely stayed at the boxoffice long enough to say, well, New York minute. And let's face it?the now 19-year-olds' style and taste has moved way past the 8 to 12 crowd. Even if they hadn't fallen off every mother's good little girl pedestal, their own impending maturity would have forced them to move on to another demographic.

Ironically, some industryites speculate that the appearance of warts and blemishes on Miss Mary-Kate and Miss Ashley may make them more accessible to today's petulant, disenfranchised teens. The up side is that today's teens grew up with Mary-Kate and Ashley. The down side is that most of today's teens are more into the baggy, dressed down, hood rat look than the squeaky clean, peaches and cream sensibility of the Olsen's clothing line.

Marketing experts agree that teens are a capricious bunch making them a tough market to target. However, since most of today's teens are able to shop for themselves and do, the Olsens wouldn't have to worry about courting parental favor to keep their brand alive.

Now Ashley is appearing solo on the cover of Harper's. Her and Mary-Kate's rep, Michael Pagnotta, is quick to caution against "reading too much into the Harper's cover. It was originally offered to both girls, and Mary-Kate decided she didn't want to do it. At this time in her life, she's more interested in just living her life than in rehashing her life with interviewers and doing photo sessions. There's not much else to be read from it. There is no split, no rift between them. It's a nice opportunity for Ashley, who thought it would be fun to go in and talk about fashion and so on. It's probably a one-off, although there are tons of offers out there for both girls, together and individually."

To hear him tell it, their individual pursuits in no way reflect upon what is happening within their company. "The brand is still Mary-Kate and Ashley. They're in business fully together, and they're continuing to work in fashion together." And don't expect separate lines of clothing, accessories - or anything. He points out, "When they make decisions about items for their brand, they're not making personal style statements, they're deciding what they think the customers will want and enjoy."

As followers of the Mary-Kate and Ashley saga are all too aware, what with Mary-Kate's battles against her eating disorder, the pair's respective boyfriends, their college ups and downs, "The last couple of years have been a time of great transition for them," Pagnotta says. "And the great thing is, their peer fans have stuck with them. They're fans who've known them for years - they've been acting since they were nine months old, they're not flavor of the month - and it's incredibly gratifying to see."

The twins took control of their empire earlier this year, hiring a new female CEO, Diane Reichenberger, to oversee the company. Ashley told USA Today she believes that "The opportunities are endless." Dualstar is selling in 15 foreign countries already and the company plans to expand its global reach. In a step toward moving into that all important teen market, the company launched a bedroom-furniture line and added new fragrances to its collection. There's also talk of the Dualstar name developing as its own brand thereby distancing itself from any residual effects of future Olsen scandals or shenanigans.

By all reports, Mary-Kate and Ashley are hands-on business women involved in their products from conception to inception by staying in the loop via e-mail and weekly telephone conference calls. In fact, thanks to the internet and today's communication technology, the Twins could spend the rest of their lives apart and it still not effect the day to day running of their billion dollar empire.

What effect their personal lives have on their demographic audience remains to be seen. A little scandal certainly didn't hurt Martha Stewart's empire, however. And, after spending the first 18 years of their lives as inseparable as you can get without being Siamese twins, it seems only natural Mary-Kate and Ashley would be eager to discover who they are individually at some point.

"Strong Medicine" actress Tamera Mowry, who grew up in the public eye with her twin sister, Tia on the sitcom, "Sister, Sister," told us, "I can totally relate because I've been in their position. The first time we realized that people saw us as an item instead of individuals was after we won a few Kids' Choice and NAACP Image awards. They only gave us one award to take home and we were like, 'Hello! We are two people. I want my own award! But it's a natural thing that comes with the territory of being a twin." The 27-year-old added, "With my sister and me, we've already been known as twins but we've done everything we can possibly do as twins and we're older now. We want to be individuals. If you just focus on being twins and doing twin things then it really limits your roles in Hollywood."

Not to mention your roles in life? Perhaps, if given the chance, Mary-Kate and Ashley can discover they're more than just a brand - and more than the sum total of their parts.



EDIT: (seeing as someone liked that article and this one is more interesting)

By Stacy Jenel Smith

Mary-Kate Olsen's stint in rehab, reportedly for cocaine addiction that was fueled by her use of the drug to "stay thin," serves as a timely reminder of the depths to which anorexia can drive one afflicted with the eating disorder. And it's a reminder that there is nothing funny about anorexia and bulimia -- in spite of all the jokes about various celebrities and their underweight shape in recent years.Those jokes, of course, include Mary-Kate's and sister Ashley's recent turn on "Saturday Night Live," pretending to be paparazzi snapping pictures of the famous Olsen twins while shouting out lines including, "Mary-Kate, you're so skinny! Eat a sandwich!"

They include Lara Flynn Boyle's mockery of those frequently-denied rumors that she had or has an eating disorder in 2002's "Men in Black II," when her alien character devoured a man, noticed a bulge in her tummy, and threw up.

They include banter on late-night talk shows about supermodels who live on cigarettes and lettuce leaves.

Back in 1983, such jokes were not in vogue. That was the year that pop star Karen Carpenter lost her long struggle with anorexia nervosa.

As the sister sibling of the 1970s massively successful The Carpenters pop duo with brother Richard, Karen had multiple Grammys to her credit, a record for most Top 5 hits in a debut year, and a charmingly tomboyish all-American appeal. She was amiable and energetic in interviews. Karen seemingly had it all. Little did the fans who came to watch her sing and play know that she was dying.

Karen, 5'4", had weighed 140 lbs. when she began dieting, but by the fall of 1975, she reportedly weighed only 80 pounds. In the grip of an obsessive psychological illness that's been likened to addiction, she secretly swallowed laxatives and thyroid pills, and threw up the food she ate. An onstage collapse in Las Vegas finally led to her seeking professional help.

"I'm just afraid I'm gonna miss it all... being married... being a mother," she was quoted as saying.

Trying to overcome the illness was a journey in itself. After years of working with therapists and doctors, it seemed to many that Karen Carpenter was better. Karen had made it. But the years of mistreatment of her body had taken their toll. She died of heart failure at 32.

For a few years after Karen's death, there was a somberness in the pop culture zeitgeist at the mention of anorexia. Television movies were made dealing with the ailment. Celebrities including Jane Fonda, Lynn Redgrave and gymnast Cathy Rigby "came out" as having faced eating disorders. Through the years since then, anorexia and bulimia have become much more openly discussed - and, as with any destructive or violent act to which it is repeatedly exposed, the public was no longer shocked by celebrities having eating disorders.

Today, the National Association of Anorexia Nervosa and Associated Disorders states that approximately eight million people in the U.S. have anorexia nervosa, bulimia, and related eating disorders. By their own admission, Christina Ricci, "The Sopranos" Jamie-Lynn DiScala, Jeannine Turner, Tracey Gold and Billy Bob Thornton are among those who've dealt with such conditions.

DiScala now serves as spokeswoman for the National Eating Disorder Association and educates students on college campuses about the dangers of eating disorders. Her book, "Wise Girl," recounts her scary battle with anorexia. She began obsessively dieting after being dumped by her high school boyfriend. The disorder took hold as she decided she had to exercise at least three hours each day and was dissatisfied with only having lost 35 pounds in three and a half months. Feeling suicidal, she sought help.

Today, medical studies show that a growing number of people are affected - and that eating disorders are affecting a larger range of people than before. Once thought of as a problem of young white women, 10 per cent of the sufferers are men. There is a substantial occurrence in black women, and other minorities have been affected, as well as children as young as six and seniors into their 70s.

Much of the blame goes to the ongoing cultural obsession with thinness - and the unstopping parade of media images of stick-thin models and, yes, celebrities as the ideal body types.

What is rarely mentioned are effects of anorexia and bulimia beyond a skeletal shape - the teeth rotting and bones thinning, the icy extremities, the fuzzy hair that may grow on the skin as the body tries desperately to protect itself from cold, the esophageal, brain and heart damage. It is also true that drug use and depression go hand in hand with eating disorders for many people, apparently including Mary-Kate Olsen.

Mary-Kate Olsen has taken the all-important step of moving from denial -- the norm for eating disorders -- to getting help. Let us hope that her example will lead others to do the same.