Found this in the paper this morning, found it amusing. :) Big Scans, so beware.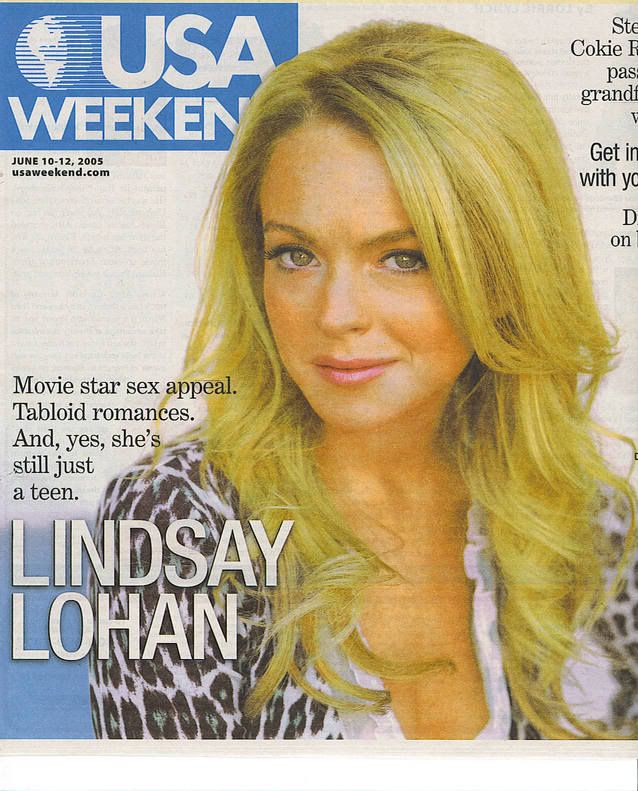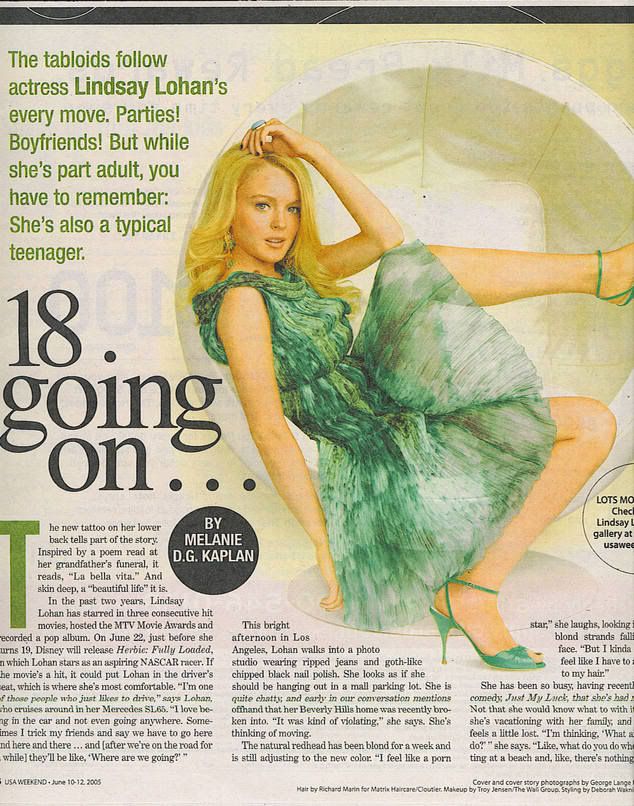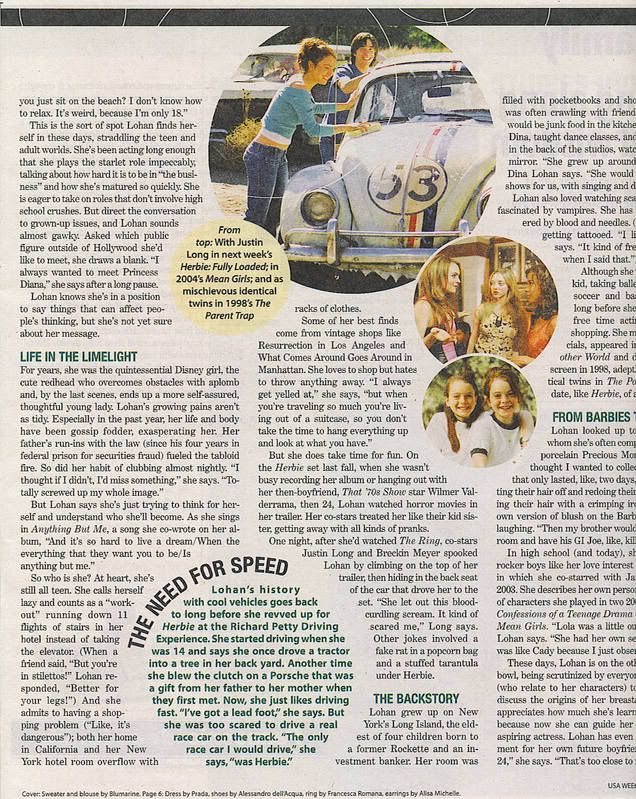 Cut off part of page 2:
...she laughs, looking in the mirro, blond strands fallin into her face. "But I kinda feel stupid. I feel like I have to act according to my hair."
She has been so busy, having recently wrapped a comedy, Just My Luck, that she's had no downtime. Not that she would know what to (do) with it. Next week she's vacation with her family, and she already feels a little lost. "I'm thinking, 'What am I going to do?'" she sa ys. "Like, what do you do when you're sitting at a beach and, like, there'es nothing around? Do...
Cut off part of page 3:
..filled with pocketbooks and shoes, and the house was foten crawling with friends who knew there would be junk food in the kitchen. Lohan's mother, Dina, taught dance classes, and Lohan used to sit in the back of the studios, watching herself in the mirror. "She grew up around musical theater," Dina Lohan says. "She would choreograph little shows for us, with singing and dancing."
Lohan also loved watchingscary movies and was facinated by vampires. She has alwys been bothered by blood and needles. (Oddly, she enjoyed getting tattooed. "I like the pain," she says. "It kind of freaked out my mom when I said that.")
Althought she was a well-rounded kid, taking ballet, tap, gymnastics, soccer and basketball, it wasn't long before she spent most of her free time acting, modeling and shopping. She made a few commericals, appeared in the TV Soap Another World and debted on teh big screen in 1998, addeptly starring as idenctical twins in </i>The Parent Trap</i>, and updated, like Herbie, of a Disney Classic.
From Babies to Boys
Lohan looked up to Ann-Margret, to whom she's foten compared, and collected porcelain Precious Moments figurines. "I thought I wanted to collect Barbie Dolls, but that only lasted like, two days, then I started cutting their hair off and redoing their clothes and crimping their hair with a crimping iron and putting my own version of blush on the Barbie dolls,"she says, laughing. "Then my brother would take them into his room and have GI Joe, like, killing them."
In high school (and today), she fell for grunge-rocker boys like her love interest in Freaky Friday, in which she co-starred with Jamie Lee Curtis in 2003. She describes her own persona as a combination of charcters she played in two 2004 releases : Lola in Confessions of a Teenage Drama Queen and Cady in Mean Girls. "Lola was a little outher and artsy," Lohan says. "She had her own sense of style and I was like Cady because I just observed a lot."
These days, Lohan is on the other side of the fishbowl, being scrutinized by everyone from tween girls (who relate to her characters) to grown men (who discuss the origins of her breats). Lohan says she sappreciates how much shes' learned in a short time, becuase now she can guide her youngers sister, an aspiring actress. Lohan has even set an age requirement for her own future boyfriends: "Someone not 24," she says. "That's too close to my age."
Edit: Do her lips not look really weird in the cover photo?