https://instagram.com/p/Bm5qD9Zlf9W
Pop Princess
Britney Spears
and her
Piece Of Me Tour
made a stop at the O2 Arena in London and Britishney made an appearance. Trying to pump up the crowd mid-show the "Change Your Mind (No Seas Cortés)" singer asks the right side of the audience to cheer and then the left side. "Are you guys ready?
Did you eat? Do you have the energy?
Do you think you can do this?" she yells in her British accent. "One, two, three!"
Spears is not impressed and then asks the left side of the audience to LetsGetLoud.m4a. The left side screams even louder than the right.
"What the hell is wrong with you?" Spears playfully jokes with the right side. "You've got to do better than that. Let's try it again!"
Fans also continue the trend of shouting "Who is it?!" at every show right before "Gimme More" begins. "It's Britney, bitch!" and the audience cheers. It's gone so viral that even Britney's sister Jamie Lynn Spears tweeted about it: "WHO IS IT??? IT'S BRITNEY B*TCH
(My new fav thing her fans do)
@britneyspears"
You wish your faves had an Iconic saying like that still being quoted today since 2007.
(
Collapse
)
Who is it?! It's Britishney, bitch!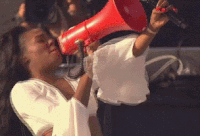 Sources:
1
|
2
|
3
|
4
|
5
|
6
|
7