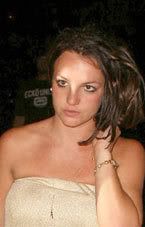 What's Next For Britney Spears?

Her past is peppered with shaved heads and strip shows. The experts say her future is to go undercover.

It seems like Britney Spears has been just a tad on the overexposed side since... what, 1999? But seeing footage of her on a daily basis hasn't helped us understand how she's capable of making life-altering decisions the way normal people change their hair, and to change her hair like normal people eat cereal.

Four experts in their fields have suggested what Britney should do next to curb her compulsion to scandalize and reignite the career [she] abandoned.



(

Cut for possible tl;dr - four self-proclaimed 'specialists' who think they've solved all of Britney's PR troubles - be a 'brand', stop dressing like it's Casual Friday, get a friend, and go to Cabo.Collapse

)



source

WTF. Now everyone and their uncle knows how to Fix BritBrit. What a totally random bunch of people (experts?!?) to ask about What Britney Should Do. And that "Specialist" guy referring to Brit as nothing more than a "brand" just like her perfume is kinda creepy! Plus: No, I don't think everyone will simply "forget" everything Britney has done in six months if she just goes on a nice long vay-cay, bb. Also: Never take fashion tips from someone who openly boasts about having dressed Sum 41. I did LOL at the "casual Fridays every day" remark, though.