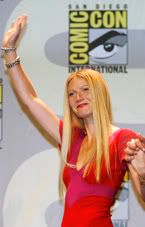 Gwyn's Anatomy: The Baby Theory

Rumours are rumbling that Gwyneth Paltrow's mysterious hospital trip was baby-related.

Given the lack of information on Gwyneth Paltrow's mysterious wheelchair ride into a New York hospital on Monday, the void is being filled with persuasive rumours. The New York Daily News reports that the Oscar-winner and self-proclaimed "best friend" of Jay-Z was wheeled into the maternity wing for overnight treatment. Gwyneth spent one night in the hospital before going home. Since then, her rep has become the foremost expert in his field at saying, "It's personal, stop asking." He called this pregnancy theory "guesswork at best."

In the September issue of W, Gwyneth said she wasn't planning to have any more children with her husband, Coldplay singer Chris Martin. The couple already have a three-year-old daughter, the most famous Apple since apples, and a one-year-old son, Moses. At the time, she said she hoped to wait at least four years before revisiting baby-ville. "I have a dream version where I think, maybe in four years I'll have two in a row really quickly again--how fabulous to have a whole bunch of them!" she said. "But then at that point, when everyone's potty-trained and sleeping through the night, are you really going to go back?" If it wasn't for the observation that she was slumped over in her wheelchair, our "guesswork" would be saying that she'd had the doctors put a "closed for business" sign up on her uterus.

The other leading theory, proposed by New York magazine, is that Gwyneth was on a five-day fast that went sour. But truthfully this is probably one of those situations where you beg and you beg for someone to tell you, and they say no, no, no, and then they finally tell you, and you go, oh, I actually didn't want to know that. Unless Gwyneth is terminally ill or getting new boobs, we're cool with leaving this as an unsolved Hollywood mystery.


source


I really hate the way this Ryan Porter guy reports, but I admit I've never heard that Gwyn and Jay-Z are "best friends". ???!?