JGL recently updated his website, HITRECORD.ORG, with two new videos.
One is a conversation he's having with papparazzi thats hilarious.
He gets inside of a papparazzi's mind, sort of.
He calls it "Pictures of Assholes"
(
Collapse
)
The other is a short film he shot after making Brick.
It's called "Escargots" from the poem "Chanson des escargots qui vont à l'enterrement," by Jacques Prévert
(
Collapse
)
and just for the hell of it, some pictures from his upcoming movie,
Brick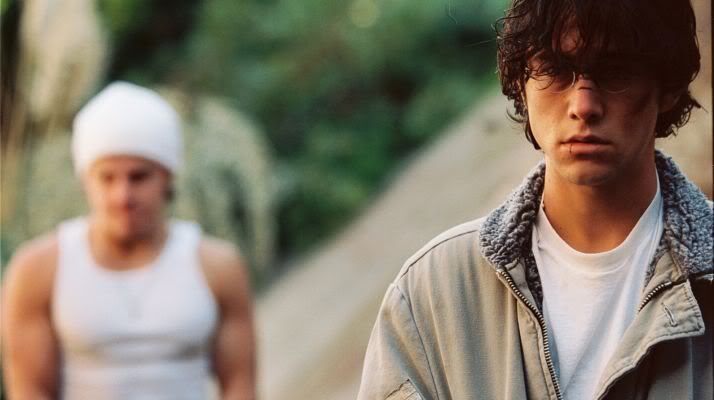 (
Collapse
)
Brick come out on March 31, in NY and LA.
synopsis via imdb:
Brick, the dynamic debut feature from writer/director Rian Johnson, won
the Sundance Film Festival's Special Jury Prize for Originality of
Vision. Brick, while taking its cues and its verbal style from the
novels of Dashiell Hammett, also honors the rich cinematic tradition of
the hard-boiled noir mystery, here wittily and bracingly immersed in
fresh territory - a modern-day Southern California neighborhood and
high school. There, student Brendan Frye's (Joseph Gordon-Levitt)
piercing intelligence spares no one. Brendan is not afraid to back up
his words with actions, and knows all the angles; yet he prefers to
stay an outsider, and does - until the day that his ex-girlfriend,
Emily (Emilie de Ravin of Lost), reaches out to him unexpectedly and
then vanishes. Brendan's feelings for her still run deep; so much so,
that he becomes consumed with finding his troubled inamorata. To find
her, Brendan enlists the aid of his only true peer, The Brain (Matt
O'Leary), while keeping the assistant vice principal (Richard
Roundtree) only occasionally informed of what quickly becomes a
dangerous investigation. Brendan's single-minded unearthing of
students' secrets thrusts him headlong into the colliding social orbits
of rich-girl sophisticate Laura (Nora Zehetner), intimidating Tugger
(Noah Fleiss), substance-abusing Dode (Noah Segan), seductive Kara
(Meagan Good), jock Brad (Brian White) and - most ominously -
non-student The Pin (Lukas Haas). It is only by gaining acceptance into
The Pin's closely guarded inner circle of crime and punishment that
Brendan will be able to uncover hard truths about himself, Emily and
the suspects that he is getting closer to.
source:
Hitrecord.org
,
Pictures
, and
IMDB