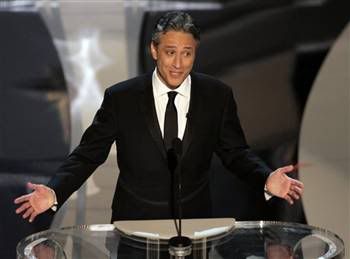 By Andy Dehnart
MSNBC contributor
Updated: 12:42 a.m. ET March 6, 2006
Judging by the Kodak Theatre audience's reception to Jon Stewart, he will find his place in Oscar hosting history alongside Chris Rock and David Letterman, both of whom were judged to be poor hosts, either for their celebrity-bashing jokes (Rock) or their immature antics (Letterman). Despite the fact that Stewart (like Rock and Letterman) did an admirable job, the audience didn't seem to like him.
Coming back from one break, Stewart pretended to be in mid-sentence. "And that is why I think Scientology is right, not just for this city, but for the country," he said, clearly mocking some stars' commitment to Scientology. Hollywood sat silent.
An admitted and unashamed progressive himself, Stewart later made fun of the film industry's perceived liberalness, telling viewers the Oscars are a chance to "see all your favorite stars without having to donate any money to the Democratic party." Our favorite stars barely chuckled.
Instructing the audience to not pirate films, Stewart referred to the rich and lavishly dressed audience and said, "These are the people you're stealing from." Those people did not find his remark funny.
As with many of Stewart's lines, the laughter for these jokes was mostly distant, perhaps coming from the high balconies, far away from the celebrities. When we saw the faces of the stars, they were blank, or awkwardly smiling, perhaps pretending to chuckle.
A few got it: the cameras kept returning to Jamie Foxx, probably because he was laughing along with viewers. By comparison, Joaquin Phoenix looked dreadfully constipated every time a camera found his face, completely unmoved.
As Jon Stewart closed the show, he said, "I hope you had a nice night," and the audience hesitated before clapping politely. His interaction with the theater's crowd was going so bad that at one point, he said, in his usual self-deprecating way, "I am a loser."
(
Collapse
)
SOURCE: MSNBC