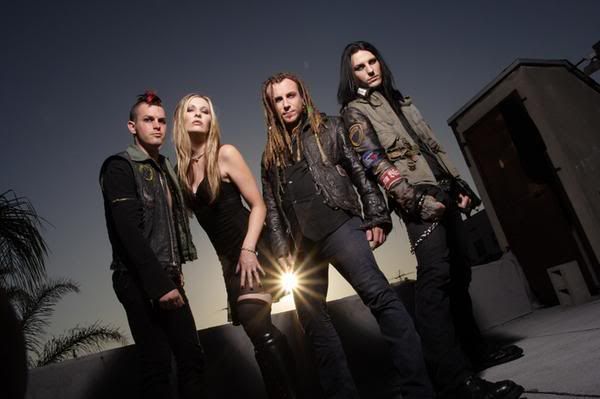 OPIATE FOR THE MASSES Signs Worldwide Deal With Century Media Records
02/04/2008

In an ever-changing and volatile music industry, it remains a constant challenge for new bands to break out and make a name for themselves on their own. However, one quartet from Los Angeles that simply refuses to let the state of the industry deter them is OPIATE FOR THE MASSES, whose undying, unparalleled work ethic and captivating live performances ultimately caught the attention of Century Media Records. The label has never seen anything quite like OPIATE FOR THE MASSES, whose sheer collective talents and hunger to succeed is refreshing to find in this day and age. Century Media quickly signed the band to a worldwide deal and are beyond ecstatic to bring something this innovative to the forefront of the scene.

The group's talents and determination are also well respected by their peers.

Chester Bennington (Linkin Park) states: "OPIATE FOR THE MASSES...I think they're going to be big."

Synyster Gates (Avenged Sevenfold) agrees: "This is the band to look out for in 2008. They are a great rock band with an edge, and certainly a must see live. They will f*ck you up."

Joey Jordison (Slipknot) further comments: "OPIATE FOR THE MASSES is nothing short of hypnotic. Tracks such as '21st Century Time Bomb,' and the somber lull of 'The Habit,' make this new album a must have for fans of industrial, goth, metal and new wave."


OPIATE FOR THE MASSES are also proud to announce the addition of renowned bassist Anna Kjellberg (ex-Drain STH, Hanzel Und Gretyl, Revolting Cocks) to the fold, which immediately adds another great dynamic to their already devastating live show. The group, rounded out by Jim Kaufman (guitars, synths), Ron Underwood (vocals) and Seven Antonopoulos (drums), are now undoubtedly at their very best and have honed this newfound energy into the songs that ultimately craft their most ambitious work to date.

They recently completed work on their much anticipated new full-length album, Manifesto, recorded by two Grammy-nominated, multi-platinum producers: Ulrich Wild (Slipknot, Deftones) and John Travis (Kid Rock, Buckcherry). The new offering is a propulsive mix of sheer hard rock aggression, soaring melodies and electronic experimentation that could be best described as Alice In Chains meets Prodigy. The disc is destined to breathe some new life into the ever changing and sometimes stagnant musical climate. Manifesto is slated for a summer release. Feel free to visit myspace to check out some older tracks, photos and videos.

Kaufman further comments: "Since its conception, OPIATE FOR THE MASSES has been a band in a constant state of transformation. Unwilling to change course merely to fit in among the flavors of the week, this band has gained popularity by blazing new trails for others to follow. The completion of our latest and boldest album, Manifesto, signals a new era for the band's experimentation, yet the resulting sound is something more accessible to the masses.

"We are also extremely pleased with the addition of world-renown musicians, Seven Antonopoulos and Anna K, as their great recording and live contributions added so much depth to our arsenal. The group feels that the final puzzle piece has been put into place as it has teamed up with Century Media to release this musically ground-breaking record. This is such a great opportunity for band and label alike. Both parties are comprised of forward-thinking, hard-working and true fans of music."

OPIATE FOR THE MASSES created a solid buzz and diehard fanbase with their self-produced debut album, The Spore, backed by a slew of major tours alongside Avenged Sevenfold, Disturbed, My Chemical Romance and Static-X, among countless others. They were also a featured act on the inaugural Taste of Chaos tour. A track from the upcoming album, "Dead Underground," originally appeared on the Saw III soundtrack and exposed the band to a whole new audience.

Manifesto is pummeling, yet captivating and even somber at times. This album was made to cause a stir, both politically and introspectively. With a new face and a new sound, OPIATE FOR THE MASSES have experienced a real coming of age and are now poised for greatness. The hard rock revolution has begun.

SOURCE: Century Media and their manager.