ETA: Maybe I should have called this the Not-Emo-But-Ignorant-Journalists-Call-Them-That-Anyway-So-I-Will-As-Well-In-An-Attempt-To-Be-Tongue-In-Cheek Roundup!"

I know you're all glued to the Superbowl (Commercials), but it's time for an update on our favorite guyliner-wearing twinks!

Fall Out Boy



Patrick Stump shaved his muttonchops. The end is nigh, people! NIGH, I SAY! (More photos from DirectTV Celebrity Football Nonsense here. Shut up, Ash Wentzday. Stop being cute.)

Also, Andy Hurley has a new not-a-side-project called Fuck City. It's pretty much just him and his friends frolicking together. It has a Myspace. And hoodies coming soon. XD



Win.

My Chemical Romance

My Chemical Romance have extended their world tour through most of this year. Lately they've been hitting south Asian countries right and left, including Taiwan, Singapore, China, Jakarta, The Philippines, and Vietnam.



The new MCR Imeem website features a live recording of a new song, "Stay", as well as pretty much every other song they've ever recorded.

MCR will be releasing a 3-Disc CD/DVD set called The Black Parade is Dead! featuring the final performance of the band's full Black Parade production in Mexico City last year, as well as their recent super-small gig at Maxwell's in Hoboken, NJ. The rumored release date is April 22. (Source)

Also from the rumor mill, James Dewees (aka that guy playing keyboards in the background of this tour) may or may not be an official sixth member. I vote yay!

And because it's MCR, here is the requisite Frank Iero mini-picspam: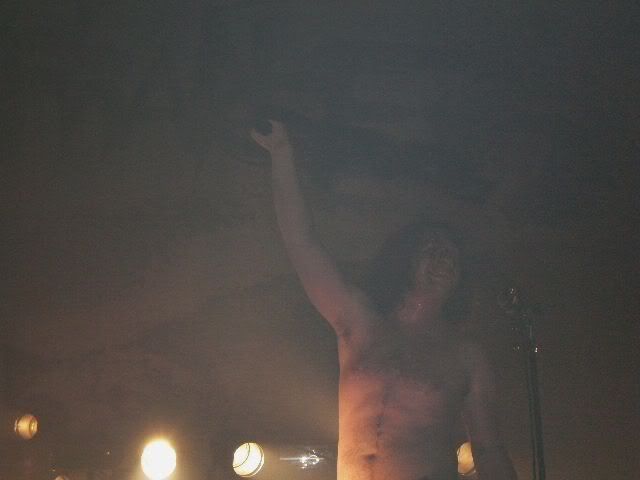 Oops! Not Frank! Don't care!

Hippies! at the Duderanch Panic at the Disco

Panic at the Disco have discovered weed, neckerchiefs and Abbey Road. They are set to headline a scaled-down Honda Civic Tour starting in April.



Their new album, Pretty. Odd is available for pre-order, including a fancy deluxe edition.

The first single from the album, "Nine In The Afternoon," is available on their Myspace. Absolutepunk.net called it "as catchy as AIDS" and I must agree. *snerk* Watch Jon Walker talk about it while wearing an awesome hat.



LOL. Furries. More photos from the "Nine in the Afternoon" video shoot available here, here, and here.

The Used

The Used are back in the studio recording the follow-up to last year's Lies For The Liars.



I love you, Dan. More studio photos here on their Myspace.

They are also planning to release a digital extended EP on Feb. 19th called Shallow Believer. It contains all the B-Sides from the various releases of Lies and a few new songs from the Lies sessions. Album artwork. Track Listing:

1. dark days
2. slit your own throat
3. devil beside you
4. into my web
5. my pesticide
6. choke me
7. sun comes up (new)
8. sick hearts (new)
9. back of your mouth
10. tunnel

They recently sent out a bulletin about their plans. Enjoy Dan's unique typing style:


Yo!

We're in the studio right now writing and recording new music and it is going great. We put up a few pics of us in the studio so check em out. In other news, we're going to be on Love Line February 12th so peeps that if you dare aaaaaaaand...........hmmmmmmmmm...........any day now we should be getting the dates for the North American tour that starts late march. We can't wait to hit the motha effin road. We love you so forgive us for not being on top of our page but as you just read we're pretty busy. Also, check out I tunes for the new B sides album that was just released or is going to be really soon. It's called Shallow Believer and it is totally bitchin. If you're in the L.A. area we'll see ya February 24

Love, The Used
The Cab


The latest addition to Pete Wentz stable of virile young things (aka Decaydance Records), The Cab, flipped their van on the icy roads of Wisconsin. They're all alive, but their gear didn't make it. Here is a message from their Myspace:


Dear Friends, Family, and Fans...

This morning at around 3 AM, our van slid on a patch of ice on a highway in Wisconsin. The van flipped a few times, and our trailer and van both ended practically upside down in the median of the freeway. I was sleeping in the backseat and was awaken by screaming and yelling, and before I could think or see what was going on the van was rolling and everything AND everyone were flying through the van. The van's TV hit Marshall in the face oushing his teeth through his front lip. My foot was smashed between a guitar amp head and a shattered window, and behind my knee was sliced really deep from broken glass. Cash hurt his knee, and our good friend and tech Drew got pretty beat up and had to get his face glued back together in several faces. Our drummer Alex, also got pretty beat up, as some of our faces were dragged across the highway and snow as we rolled. I am not trying to be too detailed or graphic, but I just want to be honest with you before rumors start flying around about the sitaution. I want everyone to know the truth and exactly what happened. The nurses and doctors in the E.R. were nothing short of amazing to us, and we want to say thanks to the firemen, medics, and strangers who assisted us through the horrible accident. This crash was horrible. Our equipment is ruined, our personal belongings were lost and broken, and our bodies our pretty beat up. However, we are alive and able to walk away from the whole thing. Other people and bands have not been so lucky. We are so grateful to be alive and to all be in our hotels right now resting. I speak for myself and the band when I say that I would like to take this time to thank all of you. Our friends...our family...our fans. You have all been so supportive and we are doing our best to make you proud. Thank you for the phone calls, the web posts, the hugs, and everything else. YOU give us the strength to go on. The Really Really Ridiculously Good Looking tour has been amazng. The fans have really blown us away and the other bands have been extremely generous and fun. We will not let this wreck stop us. We are taking a few days to get our gear in order and to get another van, and then we will be right back on the road ready to play our asses off for you, even if we have to go onstage with casts, scars, and bruises. We wouldn't be able to do it without you. Each and everyone of you and the people that helped us this morning truly are our guardian angels, and we are more thankful for you then you know. We can't wait to post new music soon...we promise we are just excited as you. Thank you all so much again. This blog isn't for sympathy..this blog is just to let you know what's going on in the most honest way possible. We will see you on the road! Also, please be very safe. The roads and weather have been extremely dangerous as of late and we just want to make sure that no one doesn't have to go through what we did. Please just be safe. Wear your seatbelts, dont drink and drive, and drive extra cautious. We love you all and I will be sure to update you guys as soon as I can to let you know what's going on and to keep you in the loop. See you at the shows...

Thank you for being our wings when we needed to fly.

-Alex DeLeon


CashDolla Enterprises and PeteWentzeOnline.org have started up a Paypal donation fund to help them get their gear back in order. Click here to give a few bucks to cute emo boys.



Marshall has posted some pics from the gnarly van wreck. See them here.

Metro Station

Everyone's favorite Hannah Montana relations are on tour with The Cab (and Cobra Starship, and some other band that everyone but me seems to love).



Watch Mason serenade his band members to sleep.

They recently shot a video for their upcoming single "Control" (which you can hear at their Myspace) with director Josh Forbes.

Metro Station will be touring with Panic at the Disco in the UK in March.

The Josephine Collective

(A quick note from the Bands No One Knows About But Everyone Should department...)




Josephine Collective are looking to play...well...just about anywhere! In Florida, anyway...


we're in panama city until the 8th, and we would love to fill any openings in any show if any are to come about. or if you want us to maybe play your kitchen, reality television show, infomercial or bath. we just wanna rock and roll, not so much ass sitting before the 8th.

thank you joey smoothies for wonderful internet connections

josephine collected


They recently added a lot of new music to their Myspace from their EP and their upcoming album, Chicken Soup for the Communist Toddler (if you can trust their Myspace bulletins, anyway), produced by John Feldman and coming in April.

Here is a Wizard of Oz themed video for their first single, "Living."



Because they're from Kansas. Get it? GET IT?

LOL