From Avril to Winehouse, we take a look at 15 stars who have gone both ways



Pink: First the M!ssundaztood one was pink (apropos!) then we have the platinum blonde and brunette options. We don't have an issue with the brown so much as the fact that the cut looks like a wee little gardener laid sod on her head then went all DUI with his lawnmower.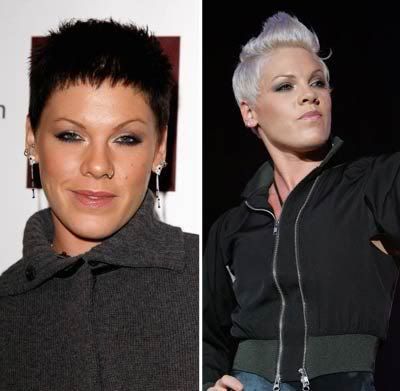 Avril Lavigne: Rumour has it Avril dyed it blonde because she was desperate to play Courtney Love (Love has since expressed a desire to be portrayed by Scarlet Johansson) but it was a good move. With the pink streak, she looks cute. And hot. Kind of like a punk rock Brigitte Bardot.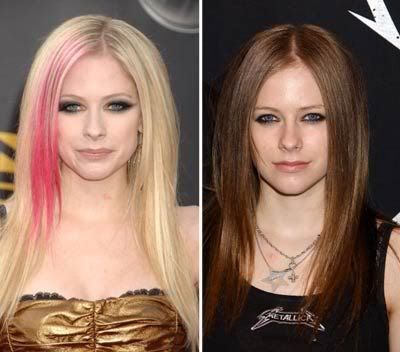 Victoria Beckham: It was the haircut heard 'round the world as half of Hollywood copied Posh and got themselves a Pob, or Posh Bob -- really, that's what people are calling it. We hear she wanted a sunkissed California look before moving there. Hence the blonde. Is it us or does she look EXACTLY THE SAME, but blonde? How is that possible?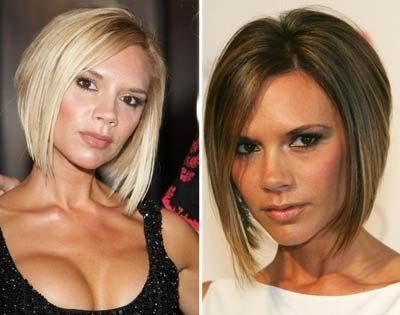 Britney Spears: Most people probably don't care what colour Brit's hair is, just so long as it's growing. We think the darker hair may have something to do with the dark path she's on (insightful!). Whether it's the darker hair or whole get-up, the pic on the left looks a lot less like she's up for an AVN Award. If you don't know, look it up.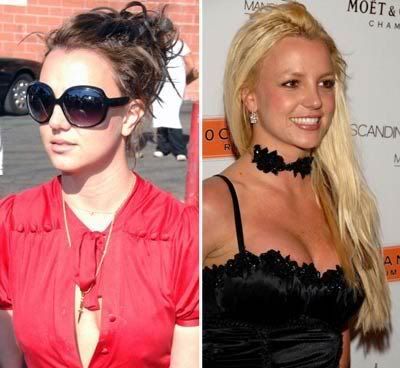 Celine Dion: Stay brunette Celine! And keep it long! The blonde didn't last and can we say phew! There's something very 'crazy, chainsmoking, rural dwelling, septuagenarian aunt with a filthy matted little dog named Princesse' about the short blonde do. Not that we don't love those aunts. We do. It's just not really the effect you want in your thirties is it?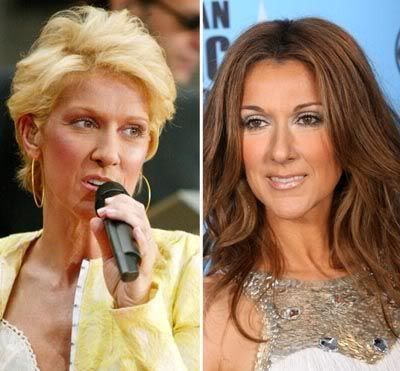 Madonna: Madge has been flipping back and forth between blonde and brunette since 1983. We like 'Material Girl' era blonde (not so much 'True Blue' Blonde) and 'Like a Prayer' generation brunette. This blonde is a little scary and are you sure that's not Courtney Cox on the right? Just kidding. It's Madonna.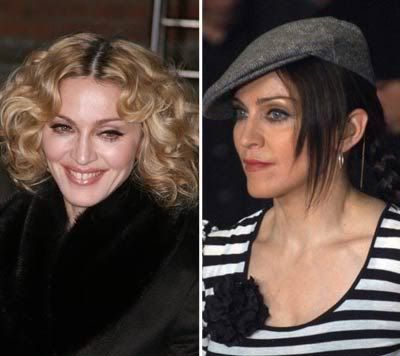 Amy Winehouse: Obviously Amy looks terrible as a blonde for a whole slew of reasons that have nothing to do with her hair colour but we have to say the colour doesn't really suit her either. She's got other things to worry about now, of course, but if she pulls through this rough patch she should totally go back to brunette.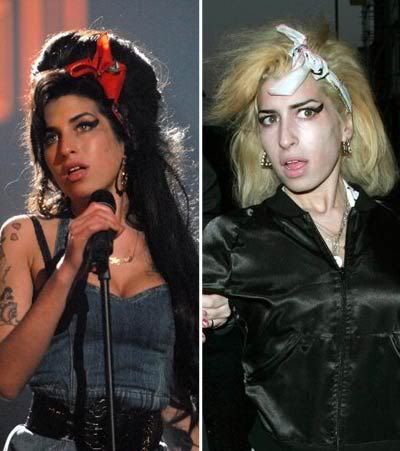 Gwen Stefani: Stefani looks great with any hair colour. We love the extra terrestrial that landed in India and got into someone's bindi collection before heading to the gay pride parade look and we love the soft blonde in demure (but transparent) black.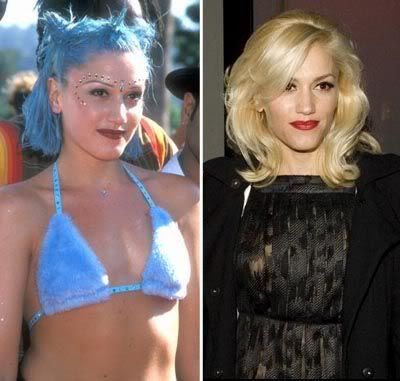 Mandy Moore: Mandy was probably trying to distance herself from her fellow blonde teen pop tarts when she first made the decision to go darker a few years ago. You know, hoping to be taken more seriously as an actress and musician. Did it work? Have you seen License to Wed? There you go.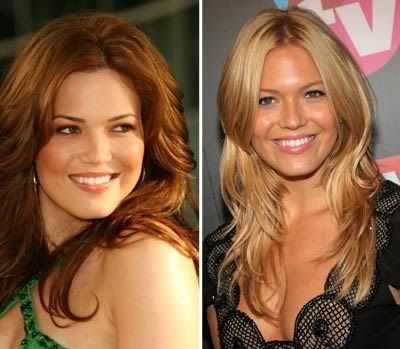 Nelly Furtado: While some want to be taken MORE seriously, Nelly went in the opposite direction -- with her appearance at least -- from dark and demure to trampy (not that there's anything wrong with that). Now she's blonde and trampy. This colour is terrible on her. But then, this is the woman who dressed up like a giant bird at the Junos last year.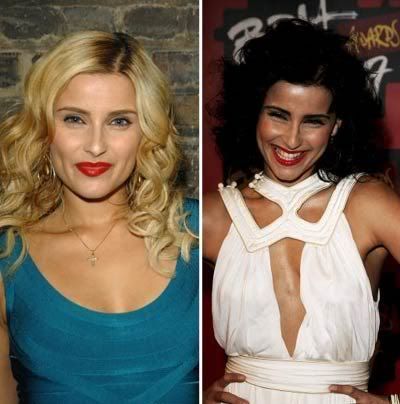 Christian Aguilera: It doesn't help that you can't see the 'Candyman' singer's peepers at all in the blonde pic here but Holy Cow, does the dark hair ever bring out the blue in her eyes. She should go back to it, now that the longest pregnancy in recorded history is over. Christina being one of those women who changes her appearance almost every time she changes her socks, it might not be long.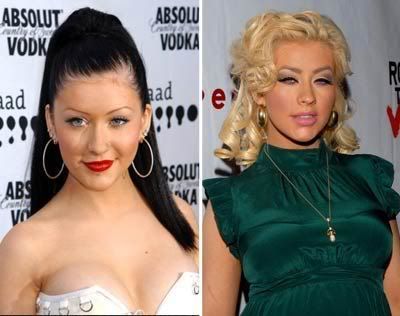 Jessica Simpson: Poor Jess. It doesn't matter what you do with your hair. People are still going to pick on you. And blame you when your boyfriend plays football badly, which makes absolutely no sense. Nobody is EVER going to take you seriously. You might as well stick to blonde. It looks cuter.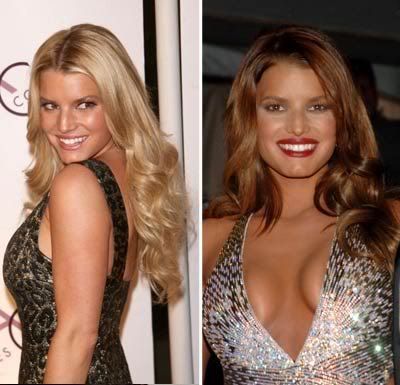 Ashlee Simpson: Simpson the Younger just looks better and better these days. And with that perky little nose she can pull off whatever hair colour she wants. After watching the video for 'Outta My Head (Ay Ya Ya)', though, we're partial to the blonde.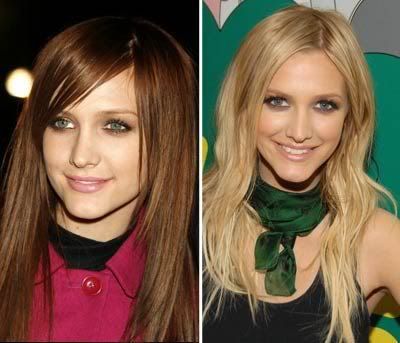 Kelly Osbourne: Another of the ever changing hair brigade, Kelly played Velma Kelly in the London production of Chicago with her dark locks, though with this blonde do she could have just as easily passed for a rounder faced Roxie Hart. Ashlee Simpson got that role though.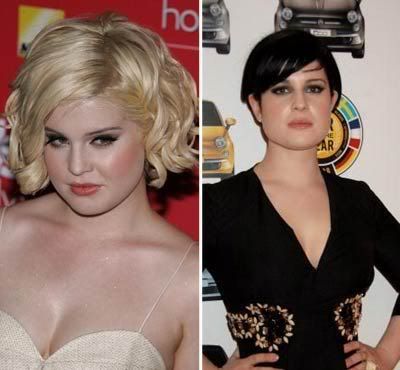 Lindsay Lohan: It's hard to keep track of Lindsay's switches from red, to brown, to blonde. To brown, to blonde, to red. At lease that's how it feels to us. We suppose when you're Maxim Magazine's hottest woman you can do whatever you want. She, of course, looks hot in all colours but we like the brunette. Makes her green eyes look smokin'.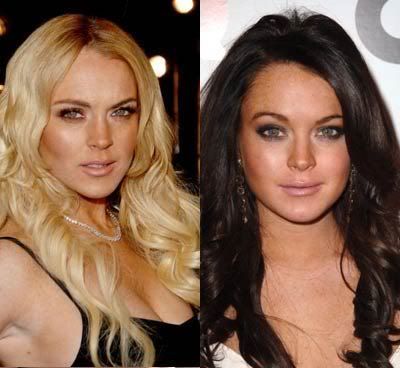 source