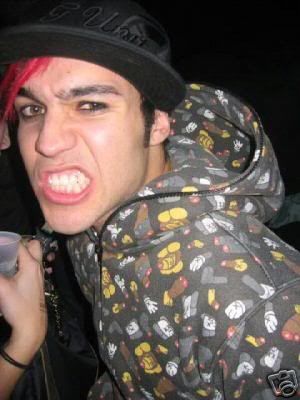 One of Pete Wentz' old girlfriends is selling his used Bape hoodies...on Ebay. Ex-girlfriend Jeanae White has a handful of Pete's old clothing, as well as some old FOB merchandise also for sale on her account.

Description from Auction:

"Pete Wentz's Bathing Ape hoodie!

This hoodie was one of his first ever bape hoddies and has been sitting in the back of my closet for about 2 years, he was the originial owner, ive maybe worn it once since then. Still in great condition, the color is a little bit faded, its only been washed a handful of times. its a heavier hoodie, very warm.

Its a size small but fits more like a medium."

Sources:

THIS Acution
Seller's Profile

I'm sure of her feet being in the pictures. Why couldn't she have just used a hanger and a doorknob like everyone else?