Year in Review: The Ten Best Movie Posters of '07!
by Neil Miller
As we begin our look back at 2007 at the movies, we start where most people usually start their movie experience — with the posters. In my Movie Poster Frenzy feature every week, I try to highlight the most captivating (or the most ridiculous) posters of the week, helping you get all revved up for the movies of tomorrow. Here we take a look back at the best of '07, one teaser at a time.
10. Teeth
Not too many people saw this small release that played well at Sundance, but it certainly has an interesting premise: A girl's vagina grows some teeth and starts terrorizing her lovers (and for that matter, her va-jay-jay doctor.) The poster doesn't tell us that — it also doesn't tell us that this movie is more of a horror movie than a comedy. But that's what I loved most about it — sometimes deceptive is the right way to go.


9. 30 Days of Night
This won't be the first poster on our list that has that graphic novel feel, thats for sure. This year saw the rise of a few great graphic novel adaptations and the poster for 30 Days of Night certainly kept the look and feel. Nothing like blood red to get us in the mood for some gore.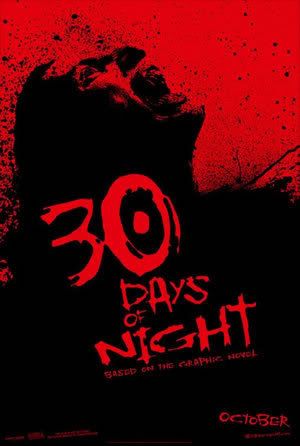 8. Fantastic Four: Rise of the Silver Surfer Teaser
The movie may not have been that good, but we were all excited to see the Silver Surfer in action. This teaser poster gave us a look at the CG'd up Doug Jones getting his surf on. It was simple, interesting and captivating — now if only they had put a scantily clad Jessica Alba up there instead… obviously written by a man.


7. Right at Your Door
Right at Your Door was another film that flew under the radar, but the poster was absolutely brilliant. Can you tell that this is "an apocalyptic thriller"? Even without the pull-quote at the top you can feel the tone of the film.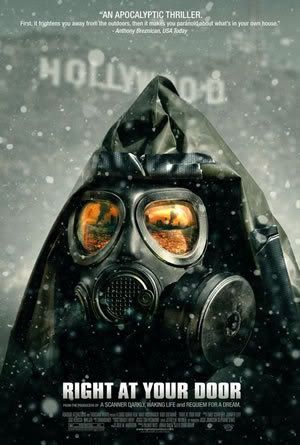 . Juno Teaser
Why put the entire cast in the poster when you can describe the film with just a pregnant belly? That is what the marketers were thinking when they wanted to tease Jason Reitman's sharp comedy Juno. It worked, because around that belly was one of the brightest casts delivering the most intelligent dialog in one of the best movies of the year, hands down.
5. Good Luck Chuck — Jessica Alba
Proving that this list is more about the poster grabbing our attention than the quality of the film, I present to you Jessica Alba eating an ice cream cone. Some of you may not like her. But I like this poster's simplicity. It's not like IN YOUR FACE, you know?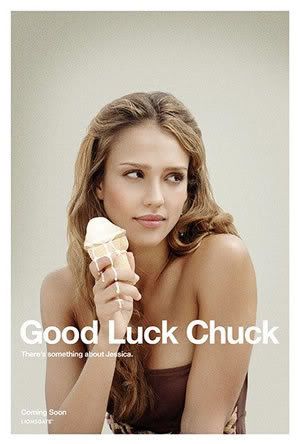 4. Transformers
Of the 13 released posters for Michael Bay's Transformers, this one was by far the most powerful. Before Optimus Prime burned up the box office this past summer, he was burning his way into our minds and onto our walls. I fucking love this movie. It's intense.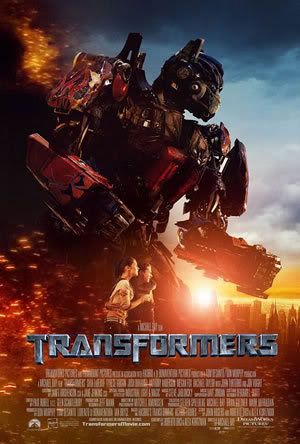 3. Knocked Up
Try looking at this next poster and not laughing. Seth Rogen broke out big time this year under the wing of Judd Apatow, but before all of that he was just giving us the look.


2. 300
Graphic novels, once again, were all over the place. The theatrical poster for Zack Snyder's 300 captured the vision of Frank Miller almost perfectly. In fact, for a while we wondered if this wasn't just from the novel instead of the movie. This movie is described in one word: badass.


1. Grindhouse — Planet Terror
Atop our list of cool movie posters is 1/2 of Grindhouse, Robert Rodriquez' Planet Terror. All of the marketing for the entire Grindhouse experience was brilliant, but nothing stuck out more than a half-naked chick with a machine gun for a leg.


Honorable Mention: Hot Fuzz
For some reason this one feels like it should have made it into the top ten, but so many people never got a chance to spy the international poster for Edgar Wright's outrageous buddy-cop homage. Few other posters this year were able to encapsulate the spirit of a film the way this teaser delivered Hot Fuzz. This movie is fucking brilliant. It deserves every single Oscar or Golden Globe ever. Because there is no way anyone can top the awesomeness that is Simon Pegg and Nick Frost. Simon Pegg looked damn hot in this movie. Check out the toothpicks! The aviators! Amirite?!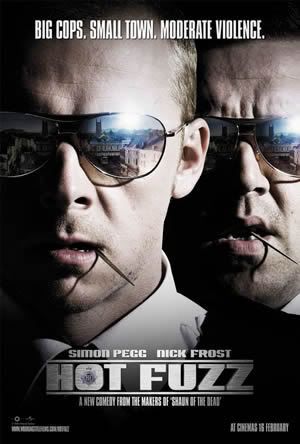 The end.


Source

Remember, kids, it's for the best poster--not best movie. It's actually a pretty good list. IDK, IDK.