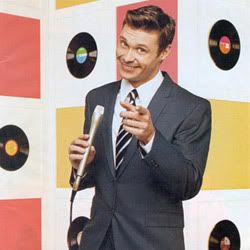 What a loopy way to start a new year! Would you believe that Ryan Seacrest delivered more news than Anderson Cooper in covering the arrival of 2008? Believe.

In a late entry, the award for best political question in the most unusual circumstance goes to . . . Ryan Seacrest!

On ABC's "Dick Clark's New Year's Rockin' Eve", Republican turned Independent Mayor Michael Bloomberg told Seacrest in no uncertain terms that he will not make a bid for the Oval Office.

Seacrest, who more often finds himself in a tete-a-tete with Simon Cowell rather than the leader of Gotham, began the inquiry by commenting to Bloomberg's daughters, "I want your dad to answer this honestly. Will you run for president?"

Without hesitation, Bloomberg responded, "No, I will not run for president, but I will speak out to try to get people to really focus on the issues and to get rid of partisanship and special interests."

Sources are here and here.