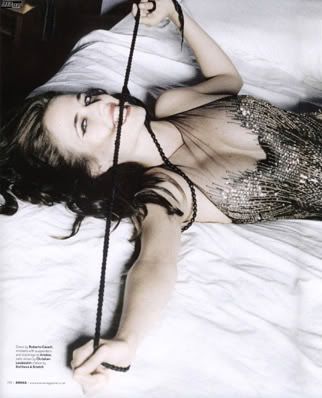 This weekend in London, the IESB attended the press day for The Golden Compass starring Nicole Kidman and Daniel Craig.

IESB's Andy Duke was on scene to talk with Eva Green who portrays Serefina Pekkala, the witch queen.

During the roundtable interview, Green talked about playing the character, coming back for a sequel, being a Bond girl and a bit about a movie she just finished entitled "Franklyn".



IESB: The end of 'The Golden Compass' is a cliff-hanger that cries out for a sequel. Have you signed up to do more films within the franchise?

Eva Green: Yes. And the part is more important in the sequel. I don't know if you've read the books but you go into her world.

IESB: And when will you start shooting the sequel?

EG: If this movie works, we'll be shooting with the year – September 2008

IESB: Were you disappointed that every character in film gets a demon whereas yours wasn't on screen.

EG: He is very far from her isn't he (laughs). Yes (pauses), he's away. Unlike all the other demons.

IESB: Was he off visiting relatives?

EG: Yes, having fun somewhere without me.

IESB: What attracted you to the film and the character of Serafina Pekkala?

EG: First of all the books are just really amazing and very rich. I had to read them because they gave me the script and it's quite difficult in script to understand what's going on. And it's a trilogy and I read the books. I discovered a masterpiece. It's really clever. Very spiritual, philosophical, extremely moving and quite dark for a fantasy adventure.

IESB: So what do you think the film's highlight would be?

EG: The charm of this movie. Firstly, the special effects are really amazing. The animals are really 'real'. You really think you see a polar bear and all the demons. And the journey of this little girl, of self discovery, is very interesting. She grows up and she learns a lot about life and she meets Serafina Pekkala and Lee Scoresby who are actually more like parents to her. Ideal parents for her. They teach her love.

IESB: Did you feel maternal at all towards Dakota Blue Richards? Both as an actress and her character in the film; Lyra Belacqua?

EG: She is a very sweet little person. Not like a scary child actress. Very mature and acting like a grownup. She enjoyed every minute of the shooting and having fun and playing with the other children. I think she was a little in awe of me because (whispers) I was a witch (laughs). It was fun. And she's very clever and a very good actress.

IESB: Was being a defender of the free spirit something that endeared you to the character of Serafina?

EG: Yes, witches are very independent and live outside of the control of the magesterium. They are a threat because they are very feminine and don't believe in doctrines and man made laws. And very close to nature.

IESB: A bit like you?

EG: No, she's a bit too mystical.

IESB: You met Philip Pullman while making the film. What did he say to you about the character of Serafina?

EG: I saw him quite briefly before shooting and was very impressed. He looks like a master and I didn't want to disappoint him and for him to think 'Oh, my God! I don't see her as Serafina'. But sent me a letter after he had seen the movie. A very nice letter saying that he was proud of me.

IESB: You seem to spend about half this movie in flight – did that involve a lot of wire work and the use of green screen?

EG: Yes, a lot of flying. A lot travelling on wires. It was an experience. Very scary. I had to remain calm because I am very afraid of heights.

IESB: Were there any close calls?

EG: The special effects team look after you. There was always a mattress beneath me (while doing wire work). . I didn't die (laughs).

IESB: Your character has an eternal life and your character falls in love with mortal men but this is a troublesome combination for obvious reasons. Can you relate yourself to this character?

EG: Well, I'm not immortal. Witches live for one-thousand years. And it's very painful for them because when they fall in love because human beings have short lives and for her (Serafina) it's painful. For instance, she fell in love with Farder Cordam fifty years ago and he's not there any more. It's sad. In the book, she had a child with Farder and but their kid died when he was four years old. For Serafina, when she meets Lyra there's something for maternal and she's quite moved by her. In a way as if she was her own child in a way.

IESB: There are some pretty detailed underlying philosophies that appear in this film just like there have been in other fantasy adventure films that have come out in recent years. How do you think they change the way children see the fantasy genre on film and in books?

EG: You still have the ingredients of fantasy such as mystical creatures. But it is quite dark and scary too. It explores ideas of free will. Fate. The nature of consciousness. I don't know if they will all get it but the film does have something for everybody. But it depends as we all have our vision.

IESB: Do you think we underestimate how much of it the kids might get?

EG: I don't know. I think they'll understand the idea of the individual. Being more free thinking, going for the truth and goodness. But after that – the thing about the absolute power and the fact that they want to control everyone's beliefs is a different matter. A lot of people like to talk about the religious side of things and it's a bit diluted in this movie. I think they'll have to deal with this religion in the 2nd and 3rd book. You know, in the 3rd one (book) God is present and you have got good and evil angels. They've kind of avoided it on this one.

IESB: I am guessing that you and Daniel Craig probably didn't encounter each other on this film. Is this accurate?

EG: We don't have scenes together. Our characters don't interact with each other in the whole trilogy. They're never in the same world.

IESB: You broke into big movies one after the other. Kingdom of Heaven and James Bond – what is it like working with the big machine of a film studio?

EG: God. If you have strong directors – it's alright. For Kingdom of Heaven, however, it was very frustrating because they decided to cut most of my part. And it was against the wishes of Ridley Scott and it was a big disappointment and I learned a lot from it. It's part of the game – it's like that. The long version exists. In this film (The Golden Compass), we'll see what they shoot in the future. I hope they will remain faithful to the books more or less. But there's a lot of money and publicity involved.

IESB: Did you have any fear about the Bond Girl curse? Up until this point, the franchise hasn't been a career springboard for your predecessors.

EG: It was a great experience. And being a part of this movie was great. The story was good. Daniel was really amazing – a great partner. I don't think I am cursed (laughs).

IESB: Is there a way that you can work within the framework of a big budget film and remain an artist rather than feeling like a small cog in a large movie making machine?

EG: I just finished a movie called Franklyn. It's different. You have more time to talk to the director. And the director is more important than the producer. With a big budget movie, the studios are very present on set because there's so much money involved that they can't afford to fuck it up.

IESB: Can you tell us a bit more about Franklyn please?

EG: A first time director called Gerald McMorrow. It's produced by Jeremy Thomas. It's with Sam Riley and Ryan Phillippe. It's difficult to summarize. It's about three crazy people. I play an artist, a bit like Tracey Emin, and she puts herself on tape and tries to kill herself. But it's funny (laughs). It's really mad. And I also play another character who is the opposite of this dark character. Very full of life.

IESB: If you could pick any animal to have as a demon – what would it be?

EG: A fish.

IESB: Why?

EG: A fish doesn't have to think too much. You don't have to worry. No memory.


LOL at Eva Green picking a fish.