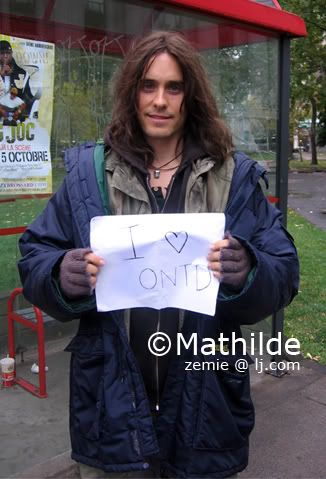 Please forgive his creepy look. It was cold, it was raining and he was probably tired as hell.
Edit: The
hobo
look and hair was for his role obvs. He still had gorgeous eyes underneath that awful outfit.
Jared is currently filming his next movie,
Mr. Nobody
, in Montreal and I promised myself that I'd get a picture of him for ONTD. After going on the movie set 3 times, I finally got him to hold the sign today!
He's been a sweetheart everytime I went on the set. And he even gave me a hug the first time even though I didn't ask for one.
He looks way more tired on the ontd pic than he did last week:
Source
: me
edit again: I should get another picture with a new ontd sign if I see him again this week y/y?