Britney Spears Kicks Off VMAs With James Bond-Meets-S&M Opening Number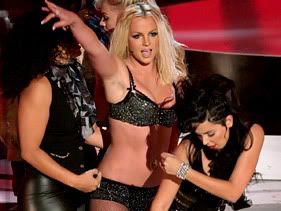 No snakes. No same-sex kisses. No magic tricks. No skimpy outfits. OK, plenty of skimpy outfits. After all, it's Britney, bitch, right? With one of the most anticipated openings in VMA history, Britney Spears got the party started Sunday night (September 9) with a James Bond-meets-underground S&M club slither through her new single, "Gimme More."
Opening with a close-up of the back of her head, Spears stared into the camera with the opening lines to "Trouble," made famous by the ultimate Las Vegas legend, Elvis, "If you're lookin' for trouble, you came to the right place/ If you're lookin' for trouble, look right in my face." As the camera panned out to reveal Spears decked out in acres of bling, including a black, jewel-encrusted bra and hot pants, black boots and nothing else. Sashaying in and out of dancers in skin-tight leather, Spears sang the refrain "Gimme, gimme more" as she literally stepped over the back of a male dancer and got intimate with another.
With images of chandeliers floating on the screen behind her mixed with silhouettes of women befitting the intro reel to a James Bond flick, Spears walked across the stage as her scantily clad dancers worked a series of stripper poles scattered throughout the room. At least one VIP, 50 Cent, appeared to be enjoying the multimedia experience. And then, after all that hype, a relieved-looking Brit gave a shy smile, whispered "thank you" and exited.
After a brutal mini monologue from Sarah Silverman, which managed to get at Britney, her children, Madonna and Spears' private business, the comedian seemed willing to ease up on her favorite recent target — Paris Hilton — but still managed to get one slasher in before paving the way for the night's first award, Monster Single of the Year.
Much as fans love Lil Mama (and other fans love Daughtry), who else could have taken that one home besides Rihanna? The humble songstress thanked fans and her producers for helping craft the year's truly monster smash, "Umbrella."
Pussycat Dolls lead kitten Nicole Scherzinger, got the party started early during the pre-show with a sizzling hook-up with Lil Wayne. Weezy enthusiastically filled in for T.I. during a performance of Scherzinger's first single, "Whatever You Like." As she shimmied beside him in a barely there red cocktail dress, black boots and leather gloves, a grinning Weezy rapped, "Her name be Nicole, oh man, she fine/ Standin' there lookin' like a glass of time/ You should make it hours, yours and mine/ I can't pronounce her last name so it should be mine!"
MTV News will have much more on the show, the parties, the stars and the swagger as the evening goes on!

I bet this was written before the show was aired. And 50 enjoying the multimedia experience? Right.
Now with picture AND source!


Source.