I know the cover was posted, but not sure about the interview...

05 Sept 07

Brad Pitt has opened up about his split with Jennifer Aniston and insists he enjoys a "deep friendship" with his former wife.

The 43-year-old actor admits he followed his heart when he split with Aniston in 2005 for his then co-star Angelina Jolie, with whom he now has four children.

"Jen and I still maintain a deep friendship and have a lot of life together that isn't erased in any way," Pitt told Details magazine.

Of the media whirlpool that surrounded their separation, he added: "I don't know how better to have handled it.

"My view was, this is no one's business in the end - at least in matters of the heart.

"So you need to protect all involved as much as possible.

"I don't know if that cooled things off or exacerbated them, but it was a thing I felt justly about at the time.

"Again, the thing guiding me then was you don't know how many days you have and you need life to be everything you want it to be."

It was after meeting Jolie on the set of action film Mr & Mrs Smith in 2004, that the rumour mill went into overdrive of a close bond between the two.

At the time Pitt was still married to America's Sweetheart Jennifer Aniston, but by the start of the following year, the couple announced their separation.

Pitt was soon inseparable from new girlfriend Jolie and they were photographed in a number of exotic locations including Kenya.


The couple now have three adopted children - six-year-old Maddox, Pax, 3, Zahara, 2, and one biological child, one-year-old Shiloh.

On his instant family, Pitt said: "Listen, I've always embraced extremes, so it doesn't feel odd to me.

"There's a couple weeks of finding your balance, and then it's in stone.

"It (my family) pleases me so much. I get so warm."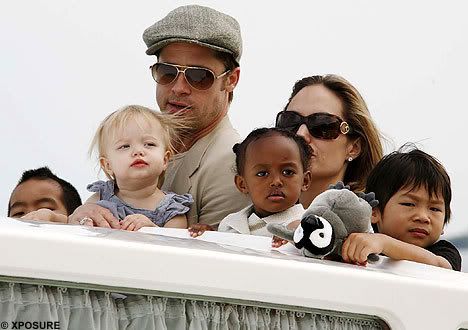 Of his adopted children, Maddox, Pax and Zahara, Pitt told Details: "I don't even see in that, anymore, what their lives could have been. I have to intellectually think about that.
"They are a bond, they are a family. And I want to see those bonds and that family grow.
"And that right there, sitting in our kitchen, is how I want to see the world. It's how I want the world to be."
As for turning 40, the man often described as the 'Sexiest Male in the World', admits he has to work harder to maintain his physique.
Ten years on: Brad in 1997 (left) and at this year's Venice Film Festival (right)
"I liked it, man. Maybe I had a crisis earlier or something. Maybe I had it in my 30s.
"One thing sucks, your face kind of goes. Your body's not quite working the same.
"But you earned it. You earned that, things falling apart."
source