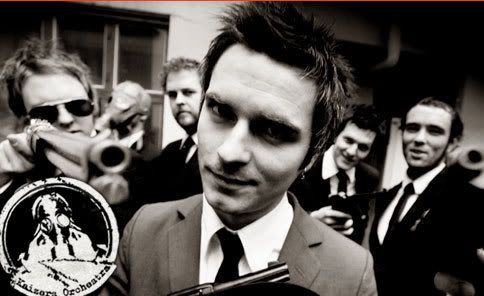 Kaizers Orchestra will be recording their fourth album in Berlin this November, with renowned producer/engineer Mark Howard.



We asked the Canadian, LA-based, Howard how he got in touch with these wildcats from Norway.

- Actually it was my manager who told me about them, and also Tom Waits, whom I worked with on his Real Gone album had recommended the band on amazon.com, so I checked them out on their myspace site and dropped them a mail saying that I dug their stuff.

- And the Kaizers picked up on that and called you up!

- Yeah, pretty much! As it turned out they were looking for someone to do their fourthcoming album, and I had some free time this fall, so we started talking about working together right away. We have a lot of similar ideas on how to do stuff, and I´ve gotten some demos that I think really rock, so I´m excited about doing this record! I think it stands a good chance of being their best to date.

The Kaizers themselves are also excited about the recording plans.

- Me and Geir Hellraizer went with Universals Daniel Pieper to visit this Swedish band called Sugarplum Fairy once we were in Berlin, to this really cool studio called Planet Roc, says The Jackal Kaizer. And ever since we´ve talked about doing a demo or something in that studio. And since we don´t have a studio of our own, and since we´re bringing in a guy from overseas anyways, we figured why not just do a full album down there? We´ve done all our previous records with Jørgen Træen in Bergen, and since we agreed not to do this one with him, we might as well do something very different. Talking through and planning this with Mark has just made us more confident that this is going to be awesome!

The album is expected released in February 2008.

Mark Howard also worked with Bob Dylan's "Modern Times", U2´s "Things You Can`t Leave Behind", REM´s "Automatic For The People", and Tom Waits' "Real Gone".



Source
Kaizers >Tokio Hotel, any day of the week. I want Janove to bang me so hard.