"[Lady Gaga] was so in character every minute of the day I saw her," says #HouseOfGucci director Ridley Scott. "So I thought, I think this has always been her. But it wasn't" — @__ChrisLee reports https://t.co/mBS8Ft0mFR

— Vulture (@vulture) November 23, 2021


Noted director Ridley Scott either lies or genuinely has never heard a real life Italian accent. During a press junket, he claims he was wowed by Gaga and Jared Leto's method acting:


At first I was anxious — the fact that some smart aleck might say, "Well, it's Italians. Why is it not in Italian?"

And so I'd say, "Well, because, you idiot, you'd have to have subtitles, and people don't tend to see expensive subtitle movies."

[citation needed bc parasite won 6 Oscars including best picture]

That's the answer. And so therefore they say, "Well, I was distracted because the Italian accent." But in this, they were so adept, and it was just so tied in to who they were. I mean there's moments where Jared was positively comical. Fantastic."


Okay. Sure. I'll be nice and say perhaps the trailer was misleading re: the accuracy of those accents.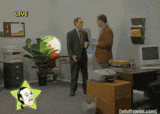 Source