Erika Jayne shops TJ Maxx amid legal and financial troubles https://t.co/qIBjt9godE pic.twitter.com/kKUfB7Fyr8

— Page Six (@PageSix) September 16, 2021

From Prada to Nada-ish.

It's expensive to be me
Looking this good don't come for free

Disgraced Housewives star Erika Jayne was spotted looking for a discount at TJ Maxx in Pasadena, Calif. with her assistant. Celebs, they're just like us after facing multiple multimillion dollar lawsuits and being forced to "downsize"!

Jayne is currently facing multiple lawsuits stemming from allegations that she and her estranged husband and disgraced attorney, Tom Girardi, lived lavishly off of money meant for plane crash victims, orphans and widows.

Girardi's law firm (Girardi Keese) has been forced into Chapter 7 bankruptcy, and it was reported last month that the company owes $101 million in debt. Jayne was also sued for allegedly spending $25 million of the law firm's money on glam, PR companies and her Amex bill over the last 12 years under her LLC.


I've never seen paparazzi at the maxx!!!

— Danny Pellegrino (@DannyPellegrino) September 16, 2021
Can't wait for that RHOBH reunion.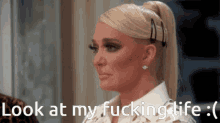 ONTD, are you a Fashionista / Maxxinista?

Sources: 1 | 2