After two pilot episodes the perpetually rumpled, seemingly absent-minded, cigar smoking homicide detective premiered on Sept 15, 1971 in his self-named TV movie series as part of The NBC Mystery Movie (alternating with McCloud and McMillian & Wife) from 1971-1977. After The NBC Mystery Movie was canceled, Columbo continued until 1978.

Typically mystery TV series are of the whodunit variety, someone is murdered & the main character tries to find out who did it from a group of suspects by following clues. This series is a howcatchem, where the murder & perpetrator is shown in the beginning and the rest of the episode is devoted to showing how the main character figures out who did it & why.
The series was revived on ABC in 1989 & ran until 1990, with specials until 2003.

The original Columbo run from 1971-1978 included some names and faces you might recognize from old movies.
Starting with Columbo himself; Peter Falk had been in several TV shows and movies, such as Robin and the 7 Hoods, Murder Inc. & Pocketful of Miracles, before landing his best known role. OP recommends his memoirs called Just One More Thing.

Ray Miland (Oscar winner for The Lost Weekend) in Death Lends a Hand and The Greenhouse Jungle.
Eddie Albert (Oscar nominee for Roman Holiday) in Dead Weight.
Roddy McDowall (How Green Was My Valley, Lassie Come Home) in Short Fuse.
John Cassavetes (Dirty Dozen, Rosemary's Baby) & Myrna Loy (The Thin Man series) in Etude in Black.
Anne Baxter (All About Eve, The Ten Commandments) in Requiem for a Star.
Vincent Price (The Fly, The Last Man on Earth) in Lovely But Lethal.
Donald Pleasence (The Great Escape) in Any Old Port in a Storm.
Dick Van Dyke (Mary Poppins, Chitty, Chitty, Bang, Bang) in Negative Reaction.
Janet Leigh (Psycho , Bye, Bye Birdie) in Forgotten Lady.
Louis Jordan (Gigi, Three Coins in the Fountain) & France Nuyen (South Pacific, Diamond Head) in Murder Under Glass.

And a bunch of others you may recognize from movies or TV series.


Jamie Lee Curtis as a waitress in The Bye-Bye Sky High I.Q. Murder Case.
Kim Cattrall as a college student in How to Dial a Murder.
Martin Sheen as a chemist in Lovely But Lethal.
Katey Sagal as a secretary in Candidate for Crime.
And behind the scenes;
Before he directed movies, Steven Speilberg directed TV series which included the Columbo episode Murder By the Book.
Jonathan Demme who directed Murder Under Glass would go on to direct movies such as The Silence of the Lambs and Philadelphia.
Steven Boscho before developing TV series such as Hill Street Blues and L.A. Law wrote Murder By the Book.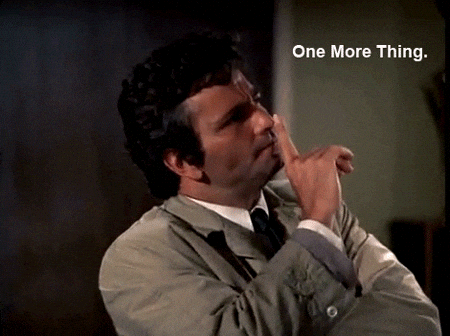 The role of Columbo was offered to Bing Crosby, who turned it down because it would take time away from his golf playing.
Blythe Danner A.K.A. Goop's mom co-stars as Cassavetes' wife in Etude in Black.
Columbo's unofficial theme song This Old Man is heard for the first time in Any Old Port in a Storm.
A musical that Janet Leigh starred in, Walking My Baby Back Home, features in the plot of Forgotten Lady.
Peter Falk directed the episode Blueprint for Murder and wrote the episode All in the Game.
Two episodes; No Time to Die and Undercover were based on the 87th Precinct novels by Ed McBain and do not follow the typical Columbo format.
Other than Peter Falk the person who left the biggest mark on the series was Patrick McGoohan. He starred in four episodes, directed five episodes (including three of the four he starred in), and wrote and produced two.

After the original series ended in 1978 NBC executive Fred Silverman produced a Mrs. Columbo spin-off, despite objections from Columbo producers. The 1979 series starred Kate Mulgrew as the homicide detective's wife (never seen, but often mentioned in his series) who is a reporter for a small newspaper doing her own investigations into mysteries. The ratings were poor, believed to be because Mulgrew was 23 (Falk was 51, although he never appeared in the series) with a 10-11 year old daughter. The series was retooled into Kate Loves a Mystery with any hint of the Columbo connection removed, but the series was cancelled after 13 episodes.

Sources: Me, Myself & I
Wikipedia 1, 2, 3, 4
IMDB 1, 2, 3, 4, 5, 6, 7, 8
YouTube
Gif