-Buffy The Vampire Slayer aired for 5 seasons on TheWB before moving over to UPN where it would air its final 2 seasons. This wasn't your usual 'network cancels show, new network takes pity and picks up canceled show'. With it being TBT lets look back at the high profile move between networks.

-Buffy was a FOX production that was sold to TheWB with a 5 year contract. Once the series entered its 5th season in 2001 other networks were interested in stealing the show due to its massive popularity and Whedon/Fox wanted an increase in the shows budget something that doesnt happen often in network television, especially a small network like TheWB.

-TheWB was the type of network that was rather tightnet with its young stars as plenty of them co-mingled and would do a lot of promotional material together every year and this was something that proved popular with Sarah Michelle Gellar.


-In an attempt to keep the Buffy on TheWB, SMG threatened to quit the show should it be moved to a new network but due to having a 7 year contract her threat didn't make much of an impact.



-A bidding war between TheWB & UPN erupted with TheWB offering to up the budget of the show from $1 million per episode to $1.8 million an episode while UPN used its CBS lineage to offer up a big $2.3 million per episode budget and an automatic 7th season thus slaying the competition.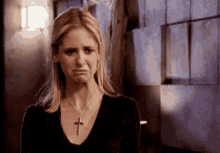 -Buffy still had its 5th season to finish playing out and it just so happened that Whedon had decided that Buffy would die at the end of the season, something that TheWB took advantage of.

-In order to cause confusion, TheWB billed 5x22 The Gift as TheWB Series Finale, a term commonly used when a show was ending for good.



-With Buffy officially leaving WB many speculated that they would cancel Angel as well but WB decided to renew it and put a ban on the 2 shows from ever crossing over once Buffy started production on Season 6 and ending its yearly trend of crossing over with one another.

-When Season 6 was scheduled to premiere, UPN rolled out the carpet with a ton of promos to reassure fans that not only was it coming to its network but that Buffy lived!





(

Buffy Lives promosCollapse

)



-UPN wanted to renew the show for an 8th season but SMG and JW both wanted out....and years later TheWB/UPN would end up merging and giving birth to TheCW where they only produce WB and CBS owned properties.

Source: My memory + 2 3 4 5 6 7 8 9