Today we remember the girl group created on The X Factor consisting of members Camila Cabello, Normani, Ally Brooke, Lauren Jauregui and Dinah Jane.

Fifth Harmony ultimately came in third place on the competition show. The group achieved the most success after gaining a huge fan base while on the show.

The group released one EP and 3 studio albums which all debuted in the top 10 of the Billboard 200.

THEIR BEGINNING


The girls released their debut EP Better Together which peaked at No. 6 on the Billboard 200. Their first single Miss Movin' On scored the girls their first entry on the Billboard Hot 100 which peaked at No. 76.

2014: @FifthHarmony 🚀 pic.twitter.com/9Kj5GHjb4Q

— Video Music Awards (@vmas) July 12, 2018

That same year the girls also won their first MTV Video Music Award in the Artist to Watch category.

THEIR PEAK




Their debut album Reflection peaked at No. 5 on the Billboard 200 and gave us hits such as Boss, Sledgehammer and Worth It featuring Tyga.

Their follow up album gave us their most popular hit-song Work From Home featuring Ty Dolla $ign which peaked at No. 4 on the Billboard Hot 100.

7/27 peaked at No. 4 on the Billboard 200 and also featured the popular tracks All in My Head (Flex) featuring Fetty Wap and That's My Girl.

Unfortunately there was a lot of drama and creative differences going on behind the scenes which lead to the departure of Camila.

THE BREAK-UP TWEET

December 19, 2016

After the departure of Camila via her representatives, the remaining girls decided to stay together as a group.

Can we take a moment to reflect on @FifthHarmony's 2018 #VMA performance???

Don't miss the 2018 @VMAs on August 20 💥 pic.twitter.com/qvid6Qvg7o

— MTV (@MTV) July 31, 2018

After an iconic and controversial VMA performance the girls released their last album together Fifth Harmony which featured Down featuring Gucci Mane and He Like That.

It was not long until the group announced they were going on hiatus to pursue solo projects and released their final music video for Don't Say You Love Me as a thank you to the fans.

March 19, 2018



In their own right the group respectively made their mark pop history becoming one of the largest selling girl groups in the world. For those of you still here... This is what the girls are up to now.

CAMILA CABELLO


Camila has arguably had the most success after leaving the group. However she had a little rocky start in the beginning of her solo journey.

She released two promotional singles Crying in the Club and I Have Questions which were not received well online. The tracks were both ultimately scrapped from her debut album which lead to the release of OMG featuring Quavo and Havana featuring Young Thug which were received much better.

Havana became a global megahit, reaching number one in twenty-three countries worldwide. It is also certified Diamond in six countries.

Her debut album Camila was released in 2018 and debuted at No. 1 on the Billboard 200.

Camila scored first ever No. 1 song on the Billboard Hot 100 with Havana in 2018 and later again with Senorita along side Shawn Mendes from her second album Romance in 2019.

She is set to make her acting debut in Cinderella in September and release her third studio album Familia later this year.

Camila has a total of 16 (possibly 17 next week) songs to chart on the Billboard Hot 100.



NORMANI


Normani released her first lead single Love Lies along side Khalid and Waves featuring 6lack in 2018.

She released two hits when collaborating with Sam Smith on Dancing with a Stranger before releasing her lead single Motivation in 2019.

Shorty after the release of Motivation her debut album was pushed back for unknown reasons. Normani later revealed she wanted to be by her mothers side after she was diagnosed with breast cancer.

Her latest single Wild Side featuring Cardi B recently just debuted on the Hot 100 at No. 14.

Normani has a total of 4 songs to chart on the Billboard Hot 100.



ALLY BROOKE


Ally released her first lead single Perfect along side Topic in 2018 and Low Key featuring Tyga in 2019. That same year she placed in third place while competing on Dancing with the Stars.

She also released her own book titled Finding Your Harmony in 2020 and currently has her own podcast called The Ally Brooke Show.



LAUREN JAUREGUI


Lauren released her first lead single All Night along side Steve Aoki in 2017 followed by Strangers with Halsey who she also went on tour with.

She teased fans with the tracks Expectations in 2018, More Than That in 2019 and was also featured on the Birds of Prey soundtrack in 2020 on the track Invisible Chains.

Lauren was recently featured on Big Femme Energy, Vol. 1 on the track While I'm Alive.



DINAH JANE


Dinah released her first lead single Bottled Up featuring Marc E. Bassy and Ty Dolla Sign. She later released her debut solo EP Dinah Jane 1 which featured Heard It All Before in 2019.

She teased fans with the tracks Missed a Spot and Lottery in 2020. After the passing of her grandmother earlier this year Dinah has kept a low profile on social media.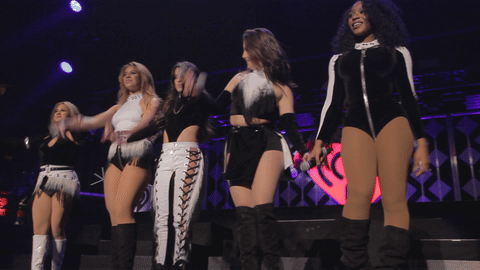 1 + 2 + 3 + 4 + 5 + 6 + 7 + 8 + 9 + 10 + 11 + 12 + 13 + 14 + 15 + 16 + 17 + 18
yes, op was a harmonizer... yes, op had a lengthy overnight shift to write all of this lol