-If you haven't heard yet, the PowerPuff Girls pilot was not picked up by TheCW.

-The Network is choosing to rework the concept while keeping the cast attached.

-The script for the pilot has gotten out and I read it so you don't have to!

-The description for the original pilot was as follows: "The Powerpuff Girls used to be America's pint-sized superheroes, now they're disillusioned twentysomethings who resent having lost their childhood to crime fighting. Will they agree to reunite now that the world needs them more than ever?"





-Chloe Bennett is playing Blossom Utonium

-Dove Cameron is playing Bubbles Utonium

-Yana Perrault is playing Buttercup Utonium

-Donald Faison is playing Professor Drake Utonium

-Nicholas Podany is playing Jojo Mondel

-Robyn Lively is playing Sara Bellum

-Tom Kenny returns as Narrator





-We start the pilot with a general introduction to the PPG, age 7 as they save the day

-We flash to their origin which is largely unchanged except Joseph "Mojo" Mondel is Drake Utonium's lab partner and helps him in accidently creating the PPG. Drake longed to have children who were a little more than ordinary.



-The PPG keep their powers from the show so we get to see freeze breath and a lotta flying.

-It is unknown why Townsville is always under attack but they love having the PPG as their local saviors and celebrities.

-We flashfoward to the girls as 17 year olds who act just like teenagers. Buttercup cheats on her girlfriend with multi girls, Blossom is uptight, Bubbles is cheery as ever.

-One night the girls are partying, head home to rest and as you would have it...



-The city is under attack! Bubbles and Buttercup are reluctant to get up in the middle of night to fight crime as they were partying and hung over.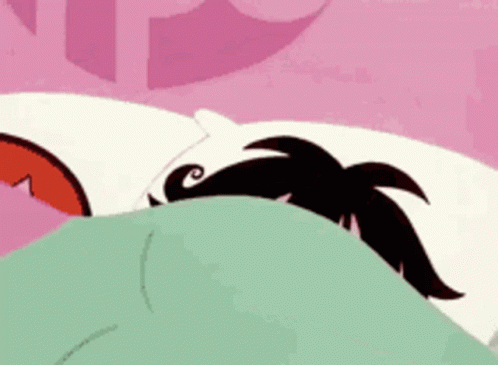 -It is revealed that they still wear their outfits from when they were 7 which Buttercup is not happy about as she states "I'm not wearing that dress anymore. It's compulsory heterosexuality."



-Drake (as he is now referred to) is a HORRIBLE father who looks as his daughters as cash cows and loves the limelight. He forbids them from changing up their looks as they are profitable that way.

-The PPG of course go to save the day but the villain turns out to be Mojo Mondel who grew to be bitter towards the Utoniums as Drake took all the praise and spotlight for the PPG creation. He wishes to turn the town against them.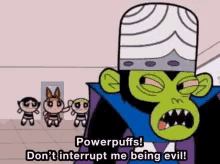 -During the battle Blossom unintentionally kills Mojo leading to Townsville forbidding the PPG from saving the day ever again!




-When they are adults Blossom ditches Townsville and all 3 sisters go their separate ways.

-Blossom goes to college and is super smart. Bubbles goes to Hollywood to become a star. Buttercup becomes a firefighter.



-We find out that Blossom has a new life, rarely keeps in contact with anyone from her former life, and has a loving boyfriend.

-Bubbles is practically Lindsay Lohan. Washed up child star whose gone to rehab multiple times and has a failed reality show and she was engaged to Butch of the Rowdy Ruff Boys. She and Buttercup are still close to one another.



-The girls all return to Townsville to collect their inheritance at the age of 25.

-We learn that Jojo has become the mayor of Townsville, Sara Bellum & Drake are on again/off again

-Jojo is likely to lose the next election so he cooks up a plan to put the city in danger and have the PPG save the day and endorse him. Since the PPG are retired, he plans to mind control them using the WOOLLY BEARS he created. Tiny insect like thing that crawls into your ear to take over your brain.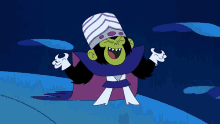 -The girls learn that Drake blew their millions of dollars inheritance on bad business ventures and that he still wants to exploit them for money and fame.



-Drake pleads with the PPG to stick around as he feels there is evil returning to Townsville. They all go off to investigate.

-The WOOLLY BEARS fail to attach to the PPG but



-They attach to Drake! And the other people of Townsville!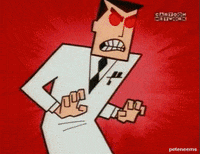 -The PPG of course save the day and Townsville begs them to return to protect them!



-We see Drake being shady as it appears that he is experimenting on other animals/objects behind the PPG backs. Could he be behind the mayhem that fell upon Townsville?

-We end the pilot on Jojo and his monkey as they give the audience an evil glare
"I'll find another way to win re- election. We took them out once, we can do it again. Right, Dad?"
The monkey SCREECHES with fervor as we CUT TO BLACK.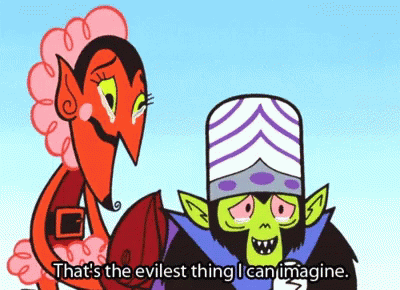 Source: Me wasting 20mins to read this script