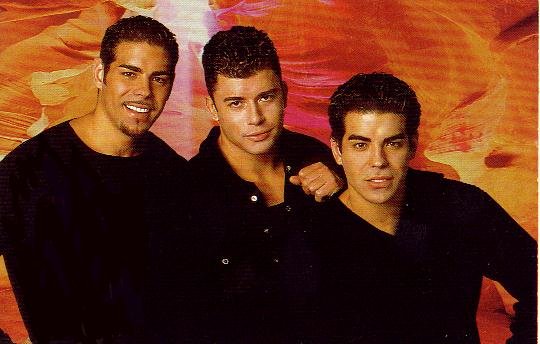 'Latin Explosion' describes the wave of latin pop music that made it over into the west. It gave us some of the biggest latin artist we know today, Shakira, Enrique, Ricky Martin, Xtina & J....I think thats it. The genre got so big, artists in the west also started adopting a more 'latin' sound.


Shakira - Whenever Wherever (2001)

OP remembers seeing this for the first time and in awe! I remember this MV being seen as provocative, Shakira really had us shook with her belly dance and rolling around in the mud talking about how her breasts are small and humble. The single sweeped the charts, the album sold over 13 million worldwide, critics look at it favourable but were confused with some of the english lyrics. The album spawned 9 singles! It was on promo for over 3 years, you don't see that anymore.



Ricky Martin - Maria (1995)

The single hit top 10 in several countries but only got to #88 in the US. Ricky Martin brought something different to the scene, a man that can move his hips! A few years later 'Maria', Ricky Martin would release 'Livin Da Vida Loca' and become the zaddy that we know of today!


Enrique Iglesias - Bailamos (1999)

Compared to RIcky, Enrique didn't dance or really sing he was just really really really pretty. The music videos if they were plotless would just feature him in front of a backdrop spliced with something else happening also he had an iconic mole, theres even an article about his mole removal, click here. Bailamos would become a smash hit, picked for the Wild Wild West Soundtrack. It has 3 music videos in rotation!


Marc Anthony - I Need To Know
Marc married [redacted] and had twins, Marc and [redacted] divorced in 2014. Was Marc considered a sex symbol? Idk.


Santana Feat. Rob Thomas (1999)
Santana is actually a band, they did some big collabs with artists you wouldn't have expected including 'Maria Mariah' with The Product G&B & Wyclef Jean and 'Game of Love' With Michelle Branch.

Here are some 'latin' influenced tracks, the trend is usually a spanish guitar, mid tempo track, sultry vocals.


Mariah Carey - My All (1998)
Mimi wrote the song after returning from a trip from Puerto Rico, being inspired by the music there. I can't find it but I remember her saying she was tapping into her latin roots when she recorded the song. Did you know her actual last name is Nunez? click here


Toni Braxton - Spanish Guitar (2000)
The fact that they had Toni morph into a guitar in this music video...who thought that was a good idea tbh


No Mercy - Where Do You Go (1996)
I'm surprised I always thought this band was american but they were formed in germany, I also didn't know 2 of the members were twins! Their last release was in 2015, where do you, where do you GOOO~~~

Source 1 2 3 4 5 6 7 8

ONTD, what was your fav latin bop of the late 90s, early 00s?