On a recent episode of The Kelly Clarkson Show, Kelly revealed to her guest Jennifer Love Hewitt that people were jerks at "an awards show" just prior to the season one finale of American Idol. (She was definitely referring to the 2002 VMAs, which she attended alongside Justin Guarini and the AI judges.)

"People were really mean to us, 'cause we're from a talent show and it's the first season. Like, everyone was so rude to us, like, on the carpet, like at the show. ... It was a horrible experience."

Jennifer Love Hewitt was the only one who was kind to Kelly: "You came up to me, and ran up to me out of nowhere, and were like, 'Oh my gosh, I'm really rooting for you, and you told me, please keep the ones you love so close, and it will end up being about a few people in your life, unfortunately, but this business can be really hard.' ... And you just gave me this advice that was really kind, in such an unkind time for me personally. So, thank you so much! It meant the world to me."

Source

Who was rude to Kelly, and will she ever name names?! She already discussed the Avril Lavigne incident on the Howard Stern show in 2017, and said that Avril did approach her years later and apologize for "elbowing her in the face."



[

You cant see any elbows in the face, but it is definitely awkward af.

]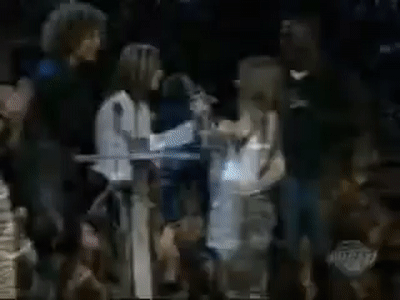 I was a rabid AI fan at the time, and remember salty shithead musicians complaining about the presence of the American Idols when interviewed on the red carpet. I only read the quotes, so of course I can't remember now who they were. Simon Cowell called out the behavior he witnessed at the event as "horrid."