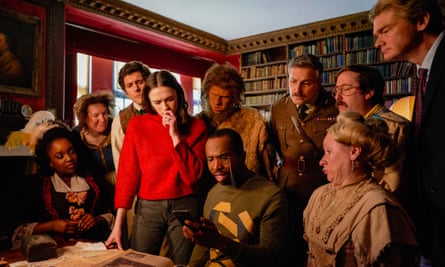 In today's 'Who Asked for this?' news, CBS will produce a pilot for an American remake of the hit sitcom from the Horrible Histories troupe, 'Ghosts'. The pilot was greenlighted in February but was delayed by the coronavirus pandemic and will film this week.

The pilot will star Rose McIver and Utkarsh Ambudkar as a couple who inherit a country house, only to find it to be inhabited by its deceased previous residents.

Rebecca Wisocky, Brandon Scott Jones, Asher Grodman (Succession), Danielle Pinnock (Young Sheldon), Richie Moriarty (The Tick), Sheila Carrasco and Román Zaragoza round out the series regular cast.

The pilot will be written by Joe Port & Joe Wiseman (New Girl, The Young Ones, Fam).

Ghosts is currently available on BBC iPlayer in most available countries and HBOMax in the US.

Source

ONTD, have you watched this amazing, hilarious, wholesome show?