You voted and made some tough choices in Round 1. People talked about how much they hate A Christmas Story, why everyone needs to go to Netflix to watch Klaus, and I watched Home Alone 2: Lost in New York for the first time and oh my god it's literally torturing escaped convicts and why is this for children???

We're now down to 16 films in the running for the Best Holiday movie. But there can only be one, so grab your spiked cocoa and get to it!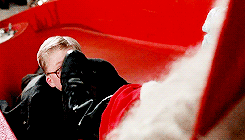 [
Merry Christmas, ya filthy animal!
]

Let us first pay respect to the eliminated features:

Prancer
The Nightmare Before Christmas
Miracle on 34th Street
A Christmas Story
Jingle Jangle
White Christmas
Gremlins
Scrooged
Meet Me in St. Louis
Jingle All the Way
Klaus
While You Were Sleeping
When Harry Met Sally
Last Holiday
The Family Stone
Rudolph the Red Noised Reindeer

Round of 16


I have a cupboard under the stairs in my new apartment and I want to make it into a Christmas Harry Potter themed chill room. Yes or Definitely?




Source: moi <3