Do you ever watch a film "based on true events" and spend the next 2 hours looking for everything about them on the Internet ? Yeah, me too ! So I thought "why not share with the world what I'm obsessed about?".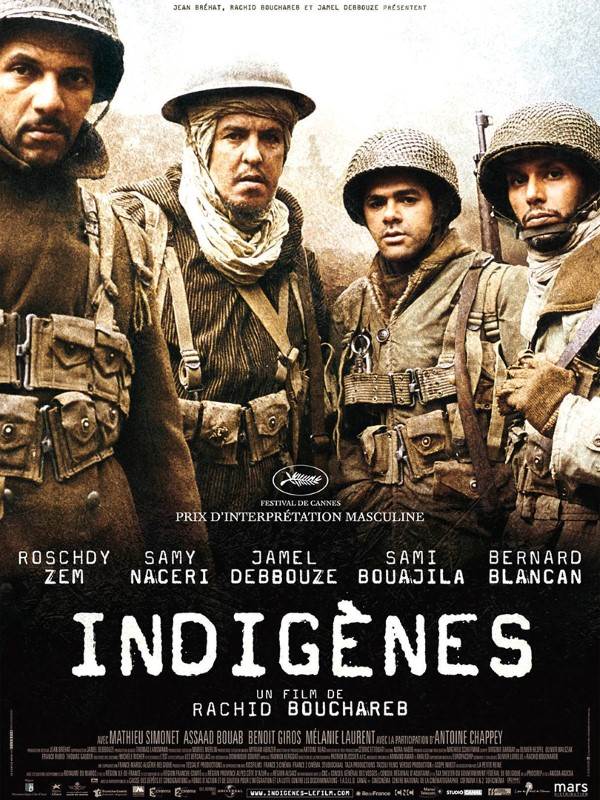 "Indigènes" or "Days of Glory" is a 2006 Algerian-Belgian-French-Morocan film by Rachid Bouchareb.
During the World War II, men from North Africa French colonies enlisted in the French army to fight Nazis and freed the country from occupation. The film tells the story of three Algerian tirailleurs and one Moroccan goumier (Jamel Debbouze, Samy Naceri, Roschdy Zem and Sami Bouajila) and how they experienced discrimation from fellow soldiers.




1830
A French army invades Algeria, beginning the process which brings the region within the French empire.

1869
Britain, France and Italy take joint control of the finances of a bankrupt Tunisia.

1881
France invades Tunisia from Algeria, and in the Treaty of Bardo forces the bey of Tunis to accept the status of a French protectorate.

1912
By the treaty of Fès a French protectorate is formally established in Morocco.
France and Spain agree that Spain shall become the colonial power in the north of Morocco and France in the south.

1920
Destour is formed as a nationalist party in Tunisia, demanding full independence from France.

1942
Algerian nationalist Ferhat Abbas produces a manifesto demanding independence from France.

1945
Demonstrations in Algeria spark off an uprising against French rule, which is put down with the loss of perhaps 10,000 Muslim lives.

1952
Ahmed Ben Bella forms the Front de Libération National (FLN) to fight for Algerian independence.

1954
A radical manifesto and acts of terrorism alert the world to the emergence of the FLN, committed to independence for Algeria. This year marked the beginning of The Algerian War of Independence until 1962. 1.5 millions of Algerians would be killed while hundreds of thousands more were injured, went missing or were forced from their homes.

1955
An armed uprising in Morocco persuades France to accept the principle of independence for the colony.

1956
Tunisia wins independence from France, with Habib Bourguiba as prime minister.
French Morocco and Spanish Morocco win independence from the two colonial powers.

1958
French Algerians seize government buildings in Algiers, in a campaign to ensure that Algerian remains French.
On his second day in power, de Gaulle visits Algiers to confront the settlers with an unwelcome message.

1960
The French colony of Mauritania becomes independent, with Moktar Ould Daddah as president.

1961
Two French generals, Raoul Salan and Edmond Jouhaud, form the OAS (Organisation de l'Armée Secrète) to preserve French rule in Algeria.

1962
A massive yes vote in a referendum is immediately followed by French recognition of Algerian independence.



On the evening of 17 October 1961, at the height of the Franco-Algerian war, tens of thousands of Algerian protesters, including women and children, from around Paris gathered at various landmarks to demonstrate against what they considered a "racist and discriminatory" curfew imposed against them.

The mobilisation had been organised by the Paris wing of the Algerian National Liberation Front (FLN), an organisation that was fighting for Algeria's independence from France and had been accused of carrying out attacks on Paris police that left a dozen dead.

It was intended to be a peaceful demonstration, but Maurice Papon, the Paris police chief, ordered his officers to stamp out the protests. As the Algerians gathered, the police acted swiftly and brutally, firing on protesters and arresting an estimated 11,500 who were herded on to buses and taken to makeshift detention centres where many claimed they were beaten and held for days without food.

Claims that officers had beaten protesters and dumped them into the Seine appeared to be confirmed when bodies were washed up on the banks of the river.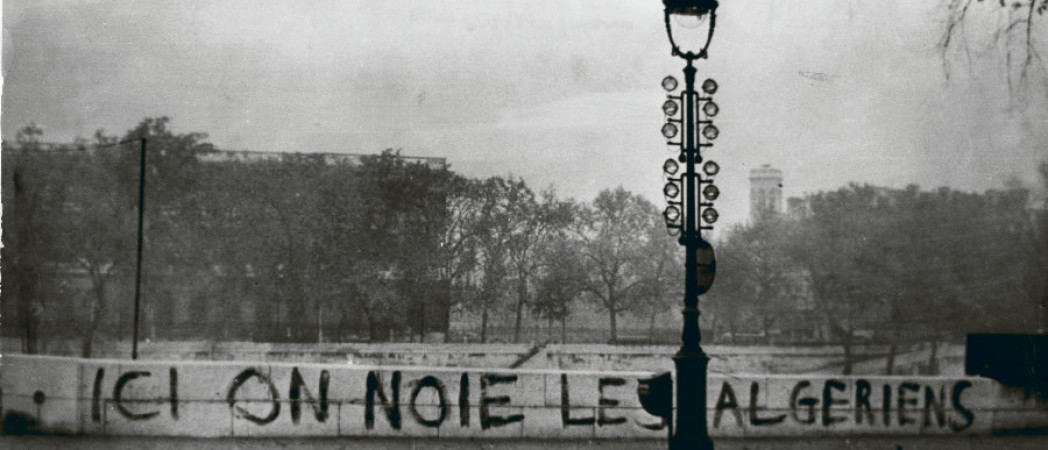 "Here we drown Algerians" - French police threw Algerians off the Clichy bridge into the Seine river.





According to French officials, the colonial authorities carried out 17 nuclear experiments in the Algerian desert in the period between 1960 and 1966. Algerian historians, however, put the number at 57.

On 13 February 1960, France conducted its first nuclear test, code-named "Gerboise Bleue" (Blue Desert Rat) in the Sahara Desert, southwest of Algeria.

The French nuclear experiments have caused the death of around 42,000 Algerians and thousands injured due to nuclear radioactivity, in addition to the extensive damage against the environment.

Algerian officials say France is refusing to give them access to archives about the tests, leaving them in the dark about the extent of the threat from radiation and preventing them from taking effective measures to contain it.

"The region has been irradiated. We need information about where irradiated stuff has been buried, this is why it is vital to obtain archives from France," said Roland Desbordes, head of an independent French nuclear watchdog.

Not all those who say they were victims of the testing are Algerian. A French newspaper, citing confidential documents, reported this month that France deliberately exposed its soldiers to the blasts to study the effects on humans.
Michel Dessoubrais, who at the time was in the French military, said he was one of those unwitting guinea pigs.
"I was there. I saw the huge mushroom cloud on May 1, 1962 at 11 a.m. Our bosses abandoned us at the site," Dessoubrais said last week on a return visit to the mountain. "What happened at In Ekker is not acceptable."



France had resisted paying the same pension to veterans of its armed forces who did not live in French territory, though many are in countries that were French colonies at the time of their service.

In 2010, French president Nicolas Sarkozy said France will raise these pensions for its African war veterans to the same level as those of their French comrades

But most of the war veterans who campaigned for equal pensions are no longer alive, while others are so frail they are no longer able to enjoy the extra money.


Jamel Debbouze, Samy Naceri, Roschdy Zem, Sami Bouajila and Bernard Blancan won the "Prix d'interprétation masculine" at the 2006 Cannes Film Festival.
The film was also nominated for the 2007 Academy Award for "Best Foreign Language Film".

Sources: 1 | 2 | 3 | 4 | 5 | 6

I choose not to talk about the "Marocchinate" as it can be triggering

[

TW

]


Marocchinate is about the mass raping and killing committed in May 1944 in Italy by the Moroccan goumiers
but there is a film with Sophia Loren from 1960 called "La Ciociara"