Panel is Whoopi, Joy, Sunny, Sara, Ana



https://www.youtube.com/watch?v=vC9kazAx-FQ

More behind the cut


Hot Topic Today is the Day

100M Americans have already cast a ballot. T45 closed with his fearmongering and conspiracy theories. Biden-Harris barnstormed PA. Polls say what they say but everyone is nervous after 2016. Joy compares it to the wedding night of her first marriage. Why are 250M voting age citizens expected to vote on one day, more early voting and voting by mail without exceptions. Sunny says she's lurching between cautious optimism and existential terror. Concerned about voter intimidation and suppression. This vote is so important that we can wait for it, but T45 doesn't want any votes except today to be counted. Sara is above extremely anxious. It's been 4 years and now wants the results asap. Ominous feeling with stores and businesses boarded up like a hurricane.



Hot Topic Future of Political Parties



https://www.youtube.com/watch?v=dicAr7kLLHA

After the election is over, what will happen with our two-party system. For Democrats, the tent is large from centrists-left-far left progressives. For GOP, it's all white supremacist trash. Ana couldn't sleep last night, walked dog around the block this morning, things seemed normal, felt calmer. But even if T45 loses, the beast he awakened will still be around, emboldened, won't change overnight. Whoopi says 100M already voted, no large scale fraud. TX HI MT exceeded 2016 before today. Many other states got close to 2016 turnout before today. Less ballots have been rejected than in 2016 (or maybe 2018, Idr). Latest poll is people are a little more confident in the election system given how early voting has gone. Joy talks about T45 pending lawsuits plus more to come, he's afraid of jail, with many crimes at state level and can't be pardoned.



Hot Topic Sara Fagen Talks NC Swing State



https://www.youtube.com/watch?v=iTTfZ1yDh3Y

Sara Fagen is Bush43 former political director and GOP strategist and ABC contributor. She thinks we'll know either early for Biden, due to rust belt states have processed early votes. Or it will go days if there is drama. (Uh ok). Biden has been a consistent lead in most battleground states, and higher favorable rating in those states, and has more money. GOP registered more voters this election (but spent more time harrassing roadways than gotv. [ps there are still more registered Democrat voters across the country overall]. Thinks NC is the state to watch. Thinks Biden will win if he pulls NC and Cunningham beats #OneTermThom. T45 supporters are loyal because they're ignorant lemmings who believe his lies. She talks a lot of pros and cons for Biden v T45. Thinks it will break for Democrats. They talk about the T45 Truck Thugs. She feels there's only one answer, it was dangerous and don't do that, but he called them patriotic. T45 calls these situations wrong, but fortunately they've been isolated during voting period. Doesn't think McConnell is at risk [true]. Thinks Graham may win [maybe, it's tight with Harrison]. Thinks the Senate will follow with POTUS so if Biden wins, Dems take Senate.



Hot Topic Pete Buttigieg



https://www.youtube.com/watch?v=u12P9B6nf_E



https://www.youtube.com/watch?v=Jy_TJJcYWnA

FOX News keeps having him on their shows and he plays whack-a-mole with them every time, hilarious. He feels optimistic but cautious, knows we may not have results tonight. They talk about T45 election conspiracy and fraud claims. Every time they've gone to court, they've lost, so it's only the strategy of someone who thinks they're losing. They talk about covid and firing Fauci after election. Sara talks about him campaigning on behalf of Biden, confrontations with MAGA. Ana talks about him being on FOX. Lol.

T45 claims 20% of Black men are voting for him. I guess Donald Dum Dum knows 10 Black people and 2 are on his side but surejan.gif. They talk outreach to Black community from Biden and Harris and surrogates, and that the Black community has been disproportionately affected by covid and other T45 era policies. Ana asks about Pope remarks about gay civil unions, they discuss. He feels it's a step in the right direction within the RCC even if it's behind US legal marriage. Says the Pope is talking to the world not just America, so it may persuade other nations who are more bigoted towards the gay community to listen and evolve. Then they talk undecided voters, which omg people who are still undecided, good lord.


Ontd Icymi Mods will do FFA Election and FFA (no politics) later tonight, LET'S DO THIS!!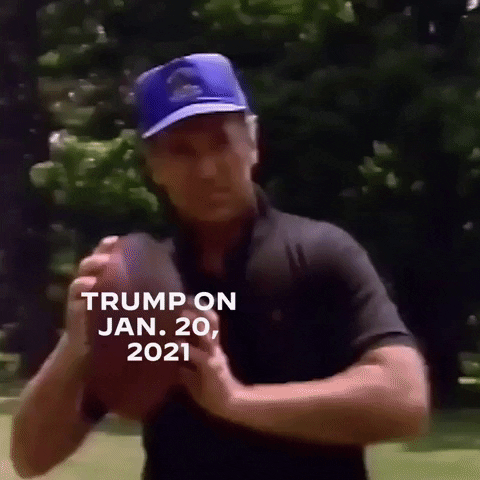 Source links are below each video or section