[
Watch The Clip In Question Here
]
yes hello i'd like to report a crime @netflix pic.twitter.com/FYboHJBlmZ

— carlye wisel 🍭 hosts Very Amusing! 🍓✨🙃 (@carlyewisel) October 4, 2020
I guess it's not just the French and its critics who are offended and upset. Chicago deep-dish staple and chain Lou Malnati's Pizzeria is also not too happy with Netflix's latest show, "Emily in Paris."
In the show, Lily Collins plays Emily Cooper, a Chicago marketing executive who sets off to France for an unexpected job opportunity to bring a "fresh" American perspective to a French marketing firm.
In one episode where her colleagues express distaste of Chicago deep-dish pizza — one calls it "disgusting" while another likens it to a "quiche made of cement" — that's when Emily quips, "Oh no, you must have gone to Lou Malnati's."
The chain however is firing back in an official statement, writing, "While the writers of Emily in Paris may not be fans of Deep Dish Pizza or Lou Malnati's in particular, generations of Chicagoans would strongly disagree," the statement reads. "Malnati's is always the first to participate in good-natured banter with pizza lovers from New York or California. However, it feels especially unkind to disparage anyone during these difficult times, given that most restaurants are struggling to hang on."
The chain maintains 60 locations across the Chicagoland area as well as in Arizona, Indiana and Wisconsin.
Incredible email to receive. Justice for Lou Malnati's!!! pic.twitter.com/LSOoex8QMh

— Khushbu Shah (@KhushAndOJ) October 7, 2020
https://instagram.com/p/CGA573FA7iy
https://instagram.com/p/CGC8ZmyDJ13
Chicago Deep Dish Pizza: Yay or Nay?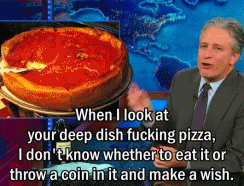 Sources:
1
|
2
|
3
|
4