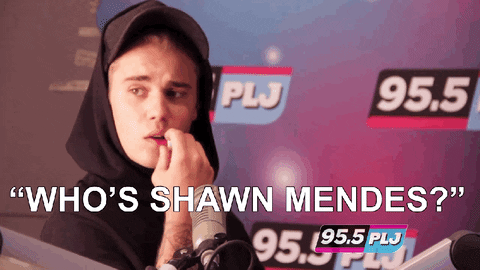 During a virtual appearance on the Capital Breakfast with Roman Kemp radio show on Tuesday, the 22-year-old Twink of Pop singer tip-toed around a question that he and Bieber, 26, may have a collaboration on his upcoming album "Wonder" (Dec 4th).
It started when Shawn was asked if rumors were true that he had turned down working with Justin last month, to which Mendes replied, "Is this you trying to get me to confirm that I have a collaboration with Justin Bieber?"
"If I turned one down, that would be insane, considering he's been one of my favorite artists since I was like nine years old," he said. "I cannot confirm nor deny," Mendes added with a smile.
Both Canadian artists first sparked collaboration rumors back in August when they were both spotted at the same studio along with the Bieber's wife, Hailey Baldwin.
Capital Breakfast host Sonny Jay pointed this out, to which Mendes revealed that he and Bieber have actually gotten closer amid the ongoing pandemic.
"In the last six months, we've definitely become a lot closer," he said. "It's really cool to have him as a mentor in a lot of ways, just to kind of talk through stuff with, because there's not many people who do this type of stuff."
As some may remember, Mendes was "linked to" and attended the Met Gala with Bieber's current wife, Hailey Baldwin. Months later once the contract was up, she got back with and married Justin Bieber.
Are you guys ready for a collaboration where Shawn reps Pickering and Bieber reps Stratford on "The Girl Is Mine?"
Source