Before we had social media, virtually unlimited access to every artists' discography, and music videos with "plots." We had to fight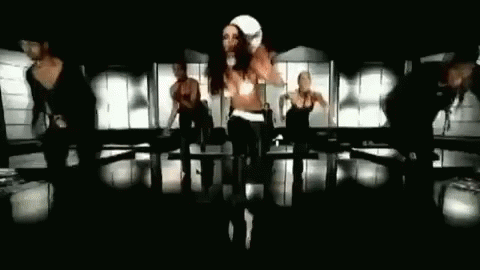 We only had basic knowledge regarding the lives of our faves from the little info we could gather. Gather from TRL, Cribs, People, J-14, and your mom talking to you about Jennifer Aniston and Brad Pitt's divorce. Celebrities actually used PR companies instead of handling their own image, inevitably leading to them voicing their trashy takes and garbage existence, followed-up with a shaudy iOS notes app "apology" screenshotted to the medium of Instagram
We had to wait, and patience is the truest virtue we have as non Gen Z-ers. And you know what, nothing said patience more than waiting in front of the TV until the music video you've been waiting for finally starts playing. But even then, we still had to wait. Wait two-thirds of the way into said music video for the opulence, the magic, the power, the holy grail that is the DANCE BREAK
The '80s, '90s, 2000s were full of them, baby. Dance breaks not only entertained us, they showed us that these artists didn't come to play. They awoken the latent homosexuality in Gen X and millenniall babies everywhere


Let's celebrate some of the most iconic my favourite dance breaks in popular music throughout the years
"If"
— Janet Jackson (1993)
DANCE BREAK BEGINS @ 3 MINUTES 35 SECONDS
Janet Jackson is the Queen Empress Goddess of serving choreography and has been routinely SNATCHING us all bald with her dance breaks throughout her nearly four decade long music career. She still dances like no one's business, whether if she's being the janet. we know and love or when she was wearing fully-clothed, head-to-toe, Harry Potter inspired outfits she did when she was married to Wissam Al Mana. She is the pinnacle for what all entertainers should aspire to if they decide to start counting their twos and fours and ones and threes to their music. This whole list really could be just about our whisper Goddess Janet, but the dance break in "If" is definitely the most it of her entire career.
"Boys"
— Britney Spears (2001)
DANCE BREAK BEGINS @ 2 MINUTES 12 SECONDS
Britney Spears' artistry post ...Oops! is deeply inspired by Janet Jackson rather than Madonna. The sound, choreography, and aesthetic–– that's Janet. A few tracks from Britney were actually intended for Janet Jackson before given to Britney, including the iconic "I'm A Slave 4 U." Like Janet, Britney had many, many fire dance moments. This breakdown from "Boys" is my personal favourite 'cause she told us to have no fear... uh uh
"Say My Name" — Destiny's Child (1999)
DANCE BREAK BEGINS @ 2 MINUTES 46 SECONDS
CLASSIC '90s R&B GIRL BREAKDOWN. A BLUEPRINT TBH. YEYEYEYEYEYEYE YEYEYEYEY YEYEYEYEYE. THE HEAD-BOBBING, NECK-DANCING, SLOW-MOTION MOVES ARE ALMOST HYPNOTIC. I accidentally capitalized that entire sentence, but whatever. yeyeyeyeyey yeyeyeye Destiny's Child deserves all the flowers, and if there is a God that loves us, they will reunite one day à la the Spice Girls and Take That


"Get Right" — Jennifer Lopez (2005)
DANCE BREAK BEGINS @ 3 MINUTES 50 SECONDS
Say what you want about JLO, but you can never, ever deny that this girl could LIPSYNC FOR HER DAMN LIFE. She began her career as a whole ass dancer on In Living Color, so while she may get the girls to sing her hooks for her, she doesn't kid around when it comes to hitting those beats. She even married a back-up dancer!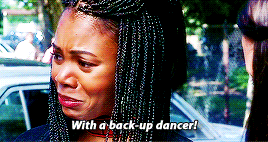 "Buttons" — The Pussycat Dolls (2006)
DANCE BREAK BEGINS @ 2 MINUTES 55 SECONDS
The great thing about being in a six-member band comprised of four back-up dancers, a Nicole Scherzinger, and a girl named Melody who sometimes gets locked in the trailer during live performances, is that you can be assured that the choreography to all your songs will be literal fire. There's fire in this dance break, like actual flames CGI'd into the scene


"Try Again" — Aaliyah (2000)
DANCE BREAK BEGINS @ 2 MINUTES 24 SECONDS
Aaliyah's dancing was always so fluid, so natural, so sleek. Dancing is cool, but Liyah's muted swagger took dancing to a whole 'nother level of cool. I just tried to imitate this iconic Egyptian-y, martial arts, electro-tinged, Euro-NRG moment a few minutes ago, and I almost broke my neck. Only Babygirl could do it right

❀ 𝑅𝐸𝒮𝒯 𝐼𝒩 𝒫𝒜𝑅𝒜𝒟𝐼𝒮𝐸 ❀


"He Loves U Not" — DREAM (2000)
DANCE BREAK BEGINS @ 2 MINUTES 15 SECONDS
NNNN THESE WHITE GIRLS GAVE IT ALL THEY GOT WITH THIS Y2K CHOREOGRAPHY. ALL WHILE WEARING PINK PLEATHER. We have to stan lmao I hope Diddy ran these girls their cheques


"Cold Hearted" — Paula Abdul (1989)
DANCE BREAK BEGINS @ 2 MINUTES 50 SECONDS
Miss Paula's entire career is one big, neverending dance break. And you know what? That's fine because she DELIVERS, and STILL DELIVERS to this day despite dealing with multiple problems in regards to her physical health. She needs to go on RPDR and give us a true "lipsync for you life" moment


"Partition" — Beyoncé (2013)
DANCE BREAK BEGINS @ 2 MINUTES 40 SECONDS
Hello!
Est-ce que tu aimes le sexe?
Le sexe, je veux dire: l'activité physique
Le coït. Tu aimes ça?
Tu ne t'intéresses pas au sexe?
Les hommes pensent que les féministes détestent le sexe
Mais c'est une activité très stimulante et naturelle que les femmes adorent

The first time I watched this video, I started crying because I was that awe-struck. That is all


"Rumors" — Lindsay Lohan (2004)
DANCE BREAK BEGINS @ 2 MINUTES 35 SECONDS
This dance break atop the building, below the helicopter is iconic. It's just so 2000s, so 'Regina George's sister dancing in front of the TV' levels of LMAO, and strangely fun to watch. Lindsay may not be a dancer, but fkdjdnkfkn that was something


"Electric Youth" — Debbie Gibson (1989)
DANCE BREAK BEGINS @ 3 MINUTES 35 SECONDS
JUST CLICK PLAY AND YOU'LL BE TRANSPORTED TO ANOTHER UNIVERSE. PLEASE TRUST ME YOU ELECTRIC YOUTHS LOL oh my god



ONTD, what are some of your favourite choreographed moments? It doesn't just have to just be the dance break, it can be the entire choreography showcased entirely throughout!
POP, R&B, HIP-HOP, EUROTRASH, K-POP, COUNTRY, MIDI FILES, VAPORWAVE LIVE PERFORMANCES, WHATEVER. LET'S DANCE 2020 AWAY