Hey friendos and aural nostalgia junkies alike, it's your bruvvy
franklotion back with a sequel to my recent post showcasing the divine––almost Godly––tracks brought to you by R&B ladies of the '90s. In awful times like these, it's healing to remember that Black women are the truest artistic authority when it comes to bops, jams, slappers, and bangers

I've amassed some of my favourite dope beats for all of us to collectively step to (step to, step to, step to, etc). Stepping to these beats is not just self-care, but it's power. That's what the early-2000s were all about. We survived Y2K, but we had to experience 9/11 on top of having a President that represented the complete opposite of what R&B is all about. Kanye (née West) told us Bush didn't care about Black people, and that was one of the last times he was correct about anything. Early-2000s R&B forced the world to care about the culture because it was just too fire

The early-2000s was the last time for a very, very long time that Black music made by real Black people––ESPECIALLY Black women––was mainstream. They routinely ruled both pop and urban charts like it was no one's business, and it wasn't cause these girls had TWO jobs. And for that we must celebrate, so what we're gonna do here is go back to that day before Y2K & BOP LIKE THERE'S NO TMRW


"Rock the Boat" — Aaliyah (2001)
Liyah, Liyah, Liyah. We miss you babygirl. Thank you for blessing us with this raunchy-ass, summertime banger before you left us to go get your wings. Singin' about working it in the middle, changing positions to that new position, and stroking it. Like, forreal, how did she do all that, while hypnotising us with them smooth-ass vocals, elegant-ass dancing, and beautiful everything?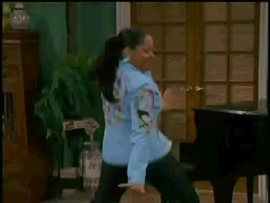 "1 Thing" — Amerie (2005)
Officially released at the the very beginning of January 2005, you could not escape this banger by my fellow blazing Blasian girl, Amerie! For good reason though, 'cause it was lit DESPITE being a single off the soundtrack to Hitch (2004)



"He Wasn't Man Enough" — Toni Braxton (2000)
Darkchild... Toni Braxton... ooowoooo ya yaaaaa Darkchild yaaaa, listen girl. No listen for real, cause I don't need to explain why this tune by Miss Toni is everything. We need to give her all our dues, and Babyface and them need to give Toni her money



"No More (Baby I'ma Do Right)" — 3LW (2000)
Kiely just HAD to go and throw hot macaroni and cheese at Naturi and prevent 3LW from releasing future bops. Bless Naturi for her come-up, and bless God for sending karma Kiely's way in the end. Anyways, let's enjoy this track dedicated to lost middle school love



"Rock Wit U (Awww Baby)" — Ashanti (2003)
Ashanti just had so many hits, that this track often goes overlooked. That's criminal. Y'all better jam



"1, 2 Step" — Ciara feat. Missy Elliot (2004)
THIS BEAT IS AUTOMATIC SUPERSONIC HYPNOTIC FUNKY FRESH WORK MY BODY SO MELODIC THIS BEAT FLOWS RIGHT THROUGH MY CHEST EVERYBODY MA AND PAPI DJSFGVJDSVJ



"Don't Mess With My Man" — Nivea (2001)
Nivea sang this song irl to Christina Millian after she started getting with Lil Wayne AFTER having a baby with The-Dream. Both of whom Nivea have children with, which lmao



"Dip It Low" — Christina Millian (2004)
Speaking of Christina Millian, we have to clap for her for giving us one of the best thot bops ever created. Who else was scandalised as a youngin when she fully started rolling around in black paint?



"Baby Boy" — Beyoncé feat. Sean Paul (2003)
Sean Paul told us himself at the start of the chune–– this is certified quality. So, is the rest of Beyoncés debut album, but this one. This one is special. Look at that sand!



"Afrodisiac — Brandy (2004)
Brandy stopped being Moesha for good after she had her baby, and released this bop for all of us to enjoy. Unplanned pregnancies can sometimes deliver artistic babies along with that unplanned real-life baby



"Case Of The Ex" — Mya (2000)
I'm too busy trying to replicate the choreography in this video with my broomstick to type anything. Just listen and enjoy



"Hit 'Em Up Style (Oops!)" — Blue Cantrell (2001)
This song is both a bop and an instruction manual in dealing with ain't shit type of mans



"Family Affair" — Mary J. Blige (2001)


Let's get it crunk, we gon' have fun




Up on up in this dancerie




We got ya open, now ya floatin'




So you gots to dance for me




Don't need no hateration, holleration




In this dancerie




Let's get it percolatin', while you're waiting




So just dance for me

Come on everybody get on up




'Cause you know we gots to get it crunk




Mary J. is in the spot tonight




As I'mma make it feel alright (Make it feel alright)




Come on baby just party with me




Let loose and set your body free




Leave your situations at the door




So when you step inside jump on the floor

Let's get it crunk, we gon' have fun




Up on up in this dancerie




We got ya open, now ya floatin'




So you gots to dance for me




Don't need no hateration, holleration




In this dancerie




Let's get it percolatin', while you're waiting




So just

…
sources:
1
2
3
4
5
6
7
8
9
10
11
1213
14
ONTD, I'm missing lots of bops 'cause Black Girl Magic is endless. What are some lady R&B jams from the early oughties that take you away from 2020 and back to the glory days of Baby Phat and flip phones?