While modern movie fans are quite used to scenes featuring advanced computer graphics, detailed makeup techniques, and cutting edge technology - some might be surprised to know that special effects in film are about as old as film itself.
Many films from the silent era used clever engineering techniques, tricks of perspective, and the manipulation of physical film to create unexpectedly brilliant special effects that still hold up today. Here are just a few:

1906: The Life of Christ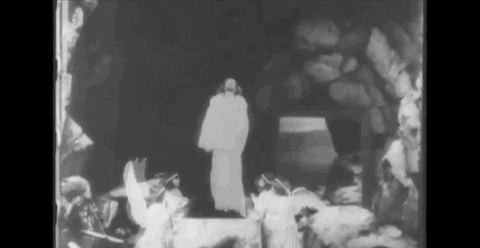 Directors: Alice Guy-Blaché (collaborating director: Victorin Jasset).
Starring: The actors are not credited.
Genre: Drama, Religious Film.
Length: 0:33:34
Plot: You know it - it's the re-telling of the story of Christ. It's been retold countless times through film but this is one of the first (maybe THE first?) examples by one of the first directors in film history, Alice Guy-Blaché.

The effects: The scene depicting the resurrection of Christ is talked about in the documentary, Be Natural: The Untold Story of Alice Guy Blaché where Mark Stetson, a visual effects supervisor, likens the techniques Blaché uses to similar techniques used on Superman Returns. The effects featured in this film are some of the earliest in movie history.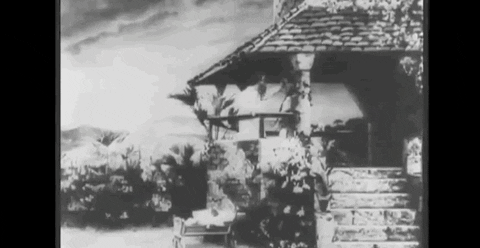 Can I watch this film now?: Yes! You can watch it on YouTube here.

Interesting Facts: While not one of Blaché's most interesting films, in my opinion, it makes the list because this film features some of the earliest special effects work in film history and had a huge budget for the time. Guy-Blaché, along with many other early women filmmakers, has largely been written out of history by dumbass men who think they own and solely pioneered all of the arts. Her work was massively influential and the documentary linked above provides some great insight into her life and her legacy. She was one of the first filmmakers to use the medium for narrative purposes and one of the first to experiment with synchronized sound in film and she directed, wrote, and produced comedies, dramas, and stories about social issues like child abuse and feminism. When this blockbuster film came out in 1906, Blaché was already the head of production at Gaumont Film Studios in France. Everyone interested in movies should know her name.



1919: When The Clouds Roll By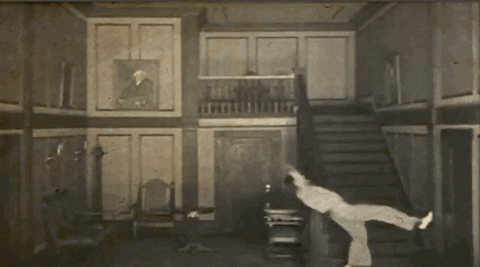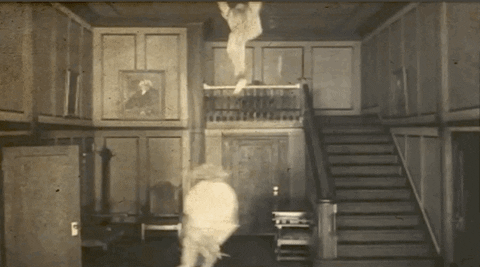 Directors: Victor Fleming (The Wizard of Oz, Gone With the Wind) and Theodore Reed.
Starring: Douglas Fairbanks (one-time husband of Mary Pickford) and Kathleen Clifford.
Genre: Comedy
Length: 1:24:50
Plot: Daniel Boone Brown (Fairbanks) plays a highly superstitious and klutzy man being manipulated by a mad psychiatrist who is experimenting on Brown's psyche in order to try and drive him to take his own life (yes, this is considered a comedy). Brown meets and falls in love with Lucette Bancroft (Clifford) and just as their love is blossoming, a man from her past arrives. A subplot evolves in which Bancroft's out of town suitor devises a plan with Brown's uncle and employer to defraud his partner back in Oklahoma out of his oil-rich land. Things get complicated and messy.

The effects: The gifs in the post come from the first 10 minutes of the film which features an extended nightmare sequence where Brown is chased by his late-night supper that has given him indigestion. We see Brown jump through a wall and then walk around a rotating room (a camera/rotating set trick that would later be used by Fred Astaire in 1951's Royal Wedding, *NSYNC in their Bye Bye Bye music video from 2000, and again by Billie Eilish in 2019 during her SNL performance of Bad Guy - 100 years after the release of When the Clouds Roll By).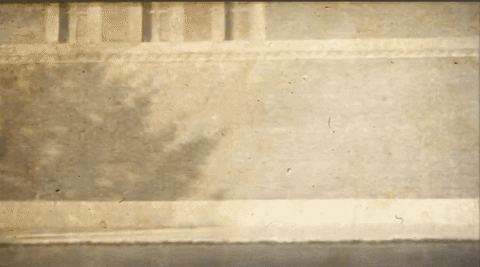 Can I watch this film now?: Yes! You can watch it on YouTube here.

But don't watch if: You aren't in the mood to read. This silent film has some of the most subtitles I've ever seen in a silent picture. It's not worth it unless you're genuinely interested in watching and learning about silent films - other than the effects, this one isn't all that great acting or narrative wise, in my opinion.

Is it problematic, though?: This being ONTD, and this post being about films from 100 years ago, it's a question that is bound to come up. Aside from the people involved with the film, because that would make this post enormously long, is the film itself actually problematic? The answer is yes - the film features a racist joke and some obviously terrible early 20th century attitudes towards mental illness and psychiatry.

Interesting Facts: This film had gone decades without being seen by the public until it was finally released on DVD in 2010. Both Fairbanks and his wife, Mary Pickford, were giant stars of the silent film era but both struggled to keep up the momentum when the industry transitioned to talkies (something many silent film stars struggled with for various reasons). Fairbanks and Pickford were both original founding members of The Academy of Motion Picture Arts and Sciences. They divorced in 1920.



1924: Sherlock Jr.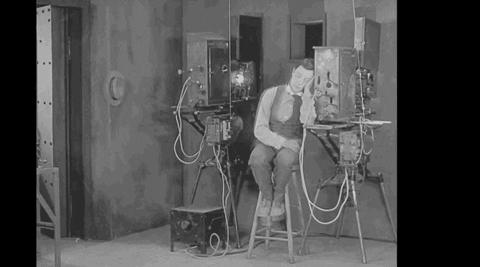 Director: Buster Keaton.
Starring: Buster Keaton and Kathryn McGuire.
Genre: Comedy
Length: 0:44:33
Plot: Buster Keaton plays a broke theatre projectionist, janitor, and wannabe sleuth trying to win over the heart of the woman he loves. His romantic competition steals a gold watch from the woman's father and pawns it in order to buy her an expensive box of chocolates and frames Keaton's character for the theft. While the woman figures out the deception almost immediately, Keaton's character returns to the theatre, rejected and lovesick, where he falls asleep and has an out of body experience and enters the movie playing in the theatre (this is one of the earliest examples of a movie within a movie plot). Initially, he gets trapped in a loop of rapidly changing scenes but eventually throughout the dream, he solves a similar crime just in time to wake up and reunite with his love.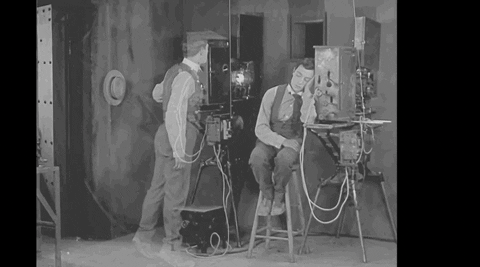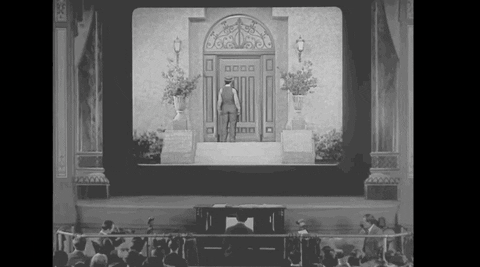 The effects: Although Buster Keaton is largely remembered today for his physical stunt work, his films often feature magnificent and inventive special effects work. In the above gif, where his character is stuck inside a movie with quickly changing scenes, Keaton used surveyors equipment to line up each shot precisely to ensure visual continuity. In other scenes, Keaton uses vaudeville tricks that play with perspective and misdirection:




Can I watch this film now?: Yes! You can watch it on YouTube here.

But don't watch if: There is no reason not to watch this film. It is genuinely entertaining, laugh-out-loud funny, super creative and unique, and is all-around delightful! If you've never seen a silent film before - start with this one! Its short run-time and lack of subtitles (Keaton famously didn't want to have to explain what was happening, he created his films to show, not tell) make it easily digestible for people not accustomed to watching silent movies.

Is it problematic, though?: Aside from the people involved with the film, is the film itself actually problematic? Shockingly, no! Despite the release date, you can watch this one and be sure that it's free of any racism, sexism, homophobia, or crude depictions of mental illness. It is wholesome and fun.

Interesting Facts: Buster Keaton broke his neck filming one of the stunts in the film - something he didn't learn about until 9 years later when a doctor discovered the history of trauma on an x-ray. The film was released to mixed reviews and was generally considered a commercial flop - a far cry from its status today as a timeless and important classic (with a 96% rating on Rotten Tomatoes). The film is genius, concise, and lauded today as a masterpiece.



Gif Sources: 1 / 2 / 3 / 4 / 5 / 6 / 7 / 8 / 9 / 10

YouTube Sources: 1 / 2 / 3

Documentary on Alice Guy-Blaché Source: TVO.org