Panel is Whoopi, Sunny, Meghan, plus Sara

*** Not a repeat. Yes Gretchen Whitmer was just on 30 March. Which feels like yesterday or a decade ago, depending on your place in the quarantine time-space continuum. ***



https://www.youtube.com/watch?v=G42oQ8oD6qE

More behind the cut


Hot Topic Dr Fauci Testified to Senate

Dr Fauci is the only person worth listening to. Rand Paul should get beat up by his neighbor again. Compares US to Sweden. Which even that is being misrepresented, according to my irl friend who actually lives there with his family, so shut up Rand Paul. Meghan says things. The point about reopening wisely is to make sure that cases don't spike to the point they overwhelm health care facilities. Nobody is saying no one else will get sick or die. The point is that those contagious remain at a level that can receive treatment.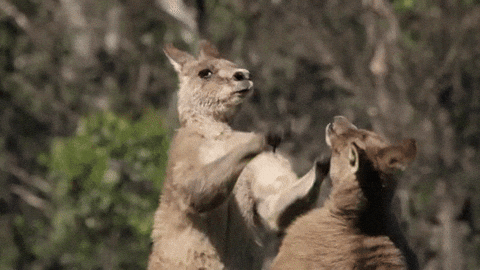 Hot Topic Mental Health Check In



https://www.youtube.com/watch?v=ES72J9rQWlE

More than 50% of America is stressed about the pandemic. Panel discusses mental health. First rule of thumb: get sleep, eat well, try to be active. Suicide hotlines have seen 1000% increase, plus increase in domestic abuse cases reported. Heightened increase in racial discord.

If only America had a leader who could express sympathy, resilience, cooperation and optimism /s.



Hot Topic People Keep Killing People



https://www.youtube.com/watch?v=XIU4Cbss9v0



https://www.youtube.com/watch?v=TmbuE2-vJZo

EMT and p/t nurse Breonna Taylor was shot and killed, they went to the wrong house. Again. Kentucky is a stand your ground state, b/f thought it was a break-in so he shot at the intruders. She's dead, and the b/f was arrested for defending his domicile.

Whoopi tells another story about a corrections officer who came with an armed posse, and they took on vigilantism as well, killing an 18 yr old, incorrectly thought the occupant had committed a crime.



Hot Topic Gretchen Whitmer's Second VP Interview



https://www.youtube.com/watch?v=XXrGByrNTII



https://www.youtube.com/watch?v=HpKS2hJTgUQ



https://www.youtube.com/watch?v=mpcYutljKJA

Michigan people have gone stark raving mad. Partially ignited by influence from the Devos family money pit.

[3rd or 4th] highest number of virus deaths in the country. Plus redneck racist neckbeard protestors. GW is going to follow the science, not rhetoric. People who keep breaking the rules will only prolong the measures in place. The protestors are brandishing nooses, Confederate flag, N'zi flag. Calls to violence isn't protected by free speech. Haters are organizing another rally on Thursday (tomorrow, pray y'all). Yes she's bothered. MI State Police is looking after her and her family's safety. Wants to ban weapons in the State Capital. MI state legislature has filed a lawsuit for government overreach. Blah di blah. GW defends her positions and her decisions.

More details and discussion about MI lockdown and what's considered essential. [GW feed cut out so panel ad-libs for a bit]. Sara segues to VP pick. GW says things, focused on leading Michigan. Says she takes the allegations seriously; women should be able to tell their stories. Then speaking as a lawyer, she says stories should be vetted objectively. Mentions inconsistencies, she supports Biden.

Meghan goes back to Michigan approach to lock-down. GW has a 6-phase plan to reopen, they're on phase 3. Sunny doesn't think MI has been more restrictive than (example) NY. GW cites possible reasons MI is a hot-button state. [Spoiler alert, battleground state].


Ontd do you fight with your neighbor over yards or gardens?

Source links are below each video or section