DarlingssSs, the quarantine seems to be almost over, at least in some parts of the world unfortunatelly, so I decided that it is time to end this wee ONTD Original series with a bang. So today it is not just a tv rec, it is also a reminder to wear your masks and gloves when you go out because


Peep Show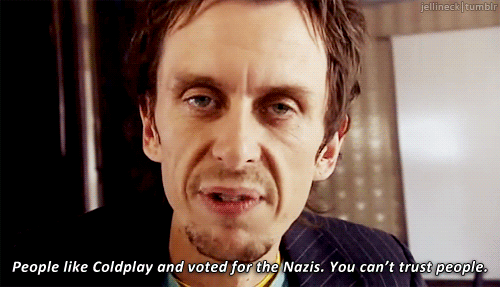 Genre
: Comedy
Lenght
: 30 mins
Why Should I watch it?
Because of Super Hans! This show gave us Olivia Colman! This show gave us endless quotes!
You are probably asking yourself "why is this idiot with a dumb username telling me to watch a peep show?". Now, the show is called like that because it is supposed to be as if we were to peek in the lives of the main characters, it's like a sort of modern family type of show, but better. Two single men, who share a flat and countless disadventures, will entertain you like very few other shows can. You still don't believe me? Take a peep!


All4


Youtube


Hulu (according to google)


Amazon Prime (according to google, I can't find it on mine)


Your usual places Ssnakey won't say



ONTD, I hope these posts managed to give you something nice to watch and pass a bit of time laughing despite the current situation. Remember to stay hydrated, get enough sleep and workout a little. You are strong, you are loved and you will get thru this pandemic!
..And if you do some soul searching, well maybe try not to do it Super Hans style