On Monday, CNN anchor Chris Cuomo told SiriusXM that he doesn't like what he does professionally. He said, "I'm seen as being good at being on TV and advocating for different positions ... but I don't know if I value those things, certainly not as much as I value being able to live my life on my own terms."


"I don't like what I do professionally. I don't think it's worth my time. I don't think it's worth it to me because I don't think I mean enough, I don't think I matter enough, I don't think I can really change anything, so then what am I really doing?" https://t.co/vxc5qy9wYG

— The Hill (@thehill) April 14, 2020


On Easter, a "jackass biker" got in his face when he was outside with his family. He said he doesn't want some "jackass, loser, fat-tire biker" talking bullshit to him, and he wishes he could've told the guy to go to hell.

"That matters to me more than making millions of dollars a year ... because I've saved my money and I don't need it anymore," he said. "I want to be able to tell you to go to hell, to shut your mouth. I don't get that, doing what I do for a living ... me being able to tell you to shut your mouth or I will do you the way you guys do each other."

"Here I am in an almost powerless position against this asshole because I'm a celebrity and he's allowed to say whatever he wants to me."

Cuomo also mentioned that Trump is full of shit.

In August 2019, Cuomo was filmed arguing with a man in NY who called him "Fredo."


Meanwhile, in other news, Chris' older brother, Governor Andrew Cuomo, is catching the eye of many Americans, in more ways than one. Due to his daily news conferences about New York, celebrities like Mia Farrow and Ben Stiller have tweeted their admiration for him.

Chelsea Handler has even been posting daily about his allure...



What's been the nicest thing about self-quarantining? Getting to know @NYGovCuomo and all his goodness. I decided to put my thoughts on paper. You can read it on @voguemagazine. pic.twitter.com/c3gqta9UIh

— Chelsea Handler (@chelseahandler) March 31, 2020


Sources: 1, 2, 3, 4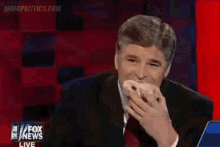 ONTD, are you experiencing a Cuomo Crush or Fauci Fever?