My darlingssSSs, today is Easter so i decided to recomend you the best show about about catholic priests, one of the best show to ever take place in Ireland, a true representation of priesthood, ONTD today I recomend you:


Father Ted
(source)
Genre
: Comedy/Satire
Lenght
: 30 mins.
Why should I watch it?
Well, that would be a eucumenical matter. If you haven't watched this show yet, do yourself a favour and laugh with me. Father Ted is a priest, who lives on tiny (fictional) Craggy Island (Co Clare irl I think?) together with young and dumb priest Dougal, old and alcoholic Father Jack (and his pet brick at some point), and Mrs Doyle.His life is everything but quiet, and leads the wee priest group to incredible and hilarious adventures.
Now you are probably wondering why I'm recomending you this show. Well, my darlingssSS in the mid 90s when this show came out it WAS A BIG DEAL, making fun of the church and priests *clutching pearls oh my... but almost 25 years after its first episode aired it is still a wonderful show, that will make you laugh like few other shows could.
Here's the best bop that Ireland has ever produced
(source)
Where can I watch it?


Youtube


All4


Amazon Prime


RTE Player


Your usual places Snakey won't say.


Happy Easter, ONTD! I hope you are taking care of yourself and ate some yummy food.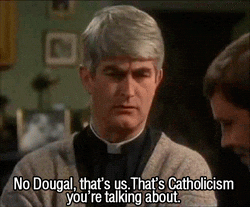 source
source