*NSYNC nailed the boy band formula with 'No Strings Attached,' released 20 years ago this week https://t.co/CplSOfIsK8 pic.twitter.com/awmgxqZtYb

— Stereogum (@stereogum) March 16, 2020
- No Strings Attached, *NSYNC's second album, turns 20 years old this Saturday. The album sold 2.4 million copies in its first week, a record the band would hold for 15 years until Adele's 25.

- Although current boy bands like BTS may have surpassed the reach of *NSYNC, it's hard to compare these bands from different eras when streaming has replaced album sales and fan culture is more spread out amongst decentralized social media networks.

- Nowhere was *NSYNC's dominance more felt than on TRL. MTV's Dave Holmes called TRL "the last great monocultural mish-mosh...before it all broke off into niches and subgenres and everyone having their own great radio station in their pocket."
- In total, *NSYNC tallied 11 #1 videos on TRL (second to Britney's 15 and one more than the Backstreet Boys' 10).

- NSA showed JC Chasez and Justin Timberlake getting involved with songwriting and producing. "Space Cowboy," "Digital Get Down," "No Strings Attached" and "Bringin' da Noise" are among JC's contributions. Timberlake also helped write and produce "I'll Be Good for You." "I Thought She Knew" closes out the album showcasing the group's beautiful a cappella.
While you figure out what to do with your 500 rolls of toilet paper, make sure you disinfect those ear buds and listen to @thedailypopcast all week long. It's #NSA20 week, and to celebrate, I'll upload a brand new interview with each of the guys every day of the week. Sat. too! pic.twitter.com/piHDAius7D

— Lance Bass's Smokin' Polls (@LanceBass) March 15, 2020
- It's NSA week on Lance's podcast The Daily Popcast, and to honor the occasion, Lance is uploading a new one-on-one interview with each of the guys (including Justin) every day of the week, plus Saturday. The interviews kicked off today with founding member Chris Kirkpatrick.
It's *NSYNC week on The Daily Popcast!! In honor of the 20th Anniversary of No Strings Attached, each day this week there will be a different interview with each of the guys! Starting today with me, the OG. Check out the link in my stories. https://t.co/lbOMt0iivb pic.twitter.com/Qav0eQf8ho

— Chris Kirkpatrick (@IamCKirkpatrick) March 16, 2020


Fave songs on No Strings Attached?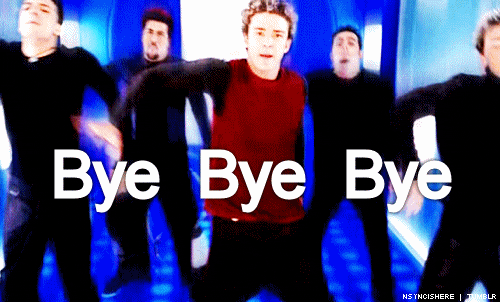 Sources:
1
,
2
,
3