Contagion shows the lengths people go to watch a movie they can't stream https://t.co/MRiTZFJXKv pic.twitter.com/W0WZjZBKI8

— The Verge (@verge) March 7, 2020


** tracked torrent download spikes of "Contagion" between end of January and early March

** each spike is timed with a major news event on spread of virus

** the movie has jumped up in iTunes downloads

** streaming-wise, appears to only be available on Cinemax at the moment




"It really was a warning to the federal government that this could happen and you need to prepare."

A scientific advisor for the 2011 thriller Contagion says she wish people had paid more attention to the movie when it was released.https://t.co/47DXFHiInN

— BuzzFeed News (@BuzzFeedNews) March 6, 2020


** scientific adviser on the film Tracey McNamara: "I wish people had paid closer attention to it when the film came out, because it really was a warning to the federal government that this could happen and you need to prepare."


People have found a way to cope with pandemic fears: Watching "Contagion" https://t.co/3JrWLgmuez

— The Washington Post (@washingtonpost) March 6, 2020


** "One of the great things about horror is it allows us to experience heightened emotions. We can experience fear and tension and suspense, but we have control over it," said Lindsey Decker, a lecturer at Boston University who studies horror films.

** discusses other pandemic horror movies like "28 Days Later", "Train to Busan", and "Shaun of the Dead" (as a palate cleanser)

** watching these movies is a way to make sense of what is happening

** viewers say "Contagion" made them more aware of their actions. Specifically how many times a day they touch their face!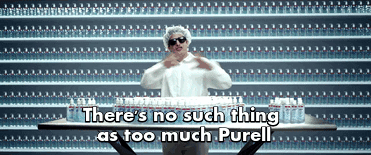 SOURCES: 1 | 2 | 3