Misty Copeland | Cheesecake
The American ballet dancer on her sweet tooth: "I cook and I bake a lot – I do a lot of key lime pies, and I love cheesecake," she said. "I've never made cheesecake myself, but I make a lot of pies and cakes and my own dough."
Taylor Swift | Apple Pie
Baking sheets and flour somewhere in my cupboards where you at?! It's no secret that Miss Americana
Dream Since I Was Seventeen
loves to bake and has documented it all on Instagram (before deleting it all right before the reputation era). With the help of her celeb friends, Emma Stone and Lena Dunham, Swift baked a homemade apple pie.
Hugh Jackman | Chocolate "Injected" Doughnuts
The Wolverine actor revealed on Instagram that during his off time and cheat day from his strict diet, he enjoys doughnuts injected with chocolate filling.
Michelle Obama - Warm Chocolate Bread Pudding
Politico.com revealed several restaurants the former FLOTUS went to for dinner in the Washington area and revealed the dishes and desserts she ordered. One dessert ordered by Michelle was a warm chocolate bread pudding.
Seth Rogen | S'more Cookie
On Instagram, the "Neighbors" star and comedian shared a photo of his delicious S'more Cookie for dessert. Doesn't look too bad.
Oprah | Elderflower Pound Cake with Lemon-Elderflower Glaze
In 2018, Oprah chose this dessert as one of her favorite foods. "This delightfully floral pound cake is a super fun and elegant twist on the classic 7-Up pound cake—not to mention, a most delicious introduction to elderflower if you're not familiar with its flavor," describes the website. "The floral notes from the elderflower liqueur and tonic water, as well as the lemony tart glaze, perfectly balance the pound cake's richness."
Aziz Ansari | Strawberry Shortcake
The disgraced comedian had this to say about his dessert to his Instagram followers, "What you eating for dessert tonight? You think you can fuck with this homemade strawberry shortcake?!! You serious!!?? YOUR FOOD IS A JOKE SON!!" Cálmate, sir.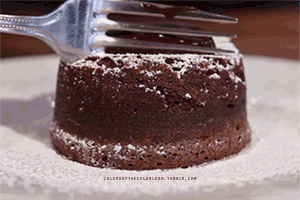 ONTD, what is / are your favorite dessert(s)?Sources:
ME! and
1
|
2
|
3
|
4
|
5
|
6
|
7