https://instagram.com/p/B8IG9WiJoHJ


Jennifer Lopez posted a behind the scenes video detailing the chaotic but also touching moments she shared with her daughter and dancers just before they graced the Super Bowl stage. She captioned the video with:

These moments were captured just minutes before we hit the stage last night. All I want my girls, the little girls on stage with me and all over the world to know is how to use their voices and be proud of everything they are. We are proud to recognize that all of us together are what makes this beautiful country truly great. ✨❤️🤍💙 #PepsiHalftime #LetsGetLoud #BornInTheUSA #SuperBowlLIV |



Here's another video showing Jennifer getting her game face on.


https://instagram.com/p/B8F0Wc7hDYY


After the performance, Jen attended an after-party with her fiance Alex Rodriguez and of course her Super Bowl co-headliner, Shakira.


https://instagram.com/p/B8HG94IlJMP


Finally here's the two ladies sharing a sweet congratulatory moment together that wasn't shown by the television cameras.

What nobody saw 🥰 pic.twitter.com/slsAponnZM

— Elijah Krantz (@Southparks_) February 3, 2020
R E I N A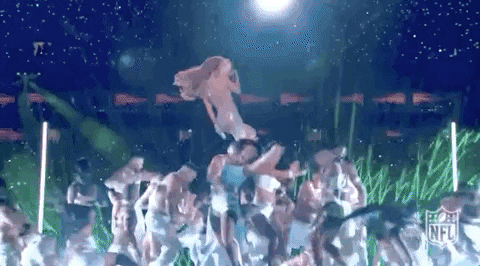 Source 1: https://www.instagram.com/p/B8IG9WiJoHJ/
Source 2: https://www.instagram.com/p/B8F0Wc7hDYY/
Source 3: https://www.instagram.com/p/B8HG94IlJMP/
Source 4: https://twitter.com/Southparks_/status/1224163986800771072?s=20