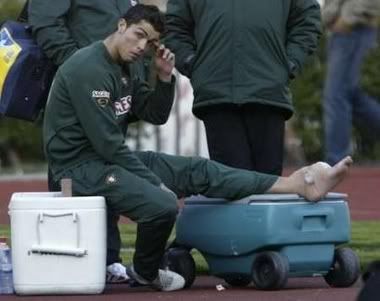 Portugal are confident Cristiano Ronaldo has not suffered a serious injury after the winger was hurt in training.
The Manchester United ace is in Belgrade preparing for his country's Euro 2008 qualifier with Serbia on Wednesday.
During Tuesday's training session, Ronaldo twisted his foot and suffered an injury to his left heel.
He is now rated doubtful for the game with Serbia, but Portugal are optimistic it is not a major problem.
"At this time we don't know if he will play," team doctor Onofre Costa told reporters. "He sprained his heel.
"It doesn't look very serious, but we are not sure if he will be fit."
Ronaldo scored twice in Saturday's 4-0 win over Belgium, while his club will also be hoping there is no lasting damage.
The quick-silver attacker is United's top scorer this season and will be a key player in the club's bid for the Treble.
SOURCE
---
well, christ on a freaking cracker.