Watch the three new Death Stranding videos debuted at #gamescom: https://t.co/hMAEVQzNyN pic.twitter.com/1S42VELW3f

— PlayStation (@PlayStation) August 20, 2019

hideo kojima, the elusive chantuese of gaming, premiered the first gameplay footage from his upcoming and equally elusive title, death stranding, at gamescom 2019. in addition to new gameplay footage, is an intro trailer for margaret qualley's (who's everywhere) character mama. while the footge is...intriguing, the gameplay feature gaining the most attention is the "urination mechanic".


You can pee in Death Stranding. Now that's what I call a surprise mechanic.

— YongYea (@YongYea) August 19, 2019
The fact that I can pee in Death Stranding and it has a countdown of how much pee is left in me pic.twitter.com/TBp2Zj3dvB

— Cliff Bleszinski (@therealcliffyb) August 19, 2019
death stranding giving the people what they really want: the ability to peehttps://t.co/BUJVXqo1AN

— Amanda Yeo (@amandamyeo) August 20, 2019
The first gameplay ever shown of Death Stranding and the main gameplay mechanic featured is peeing on things and that "if multiple people pee on the same spot good things might happen" #gamescom2019

I need this game! pic.twitter.com/PHqEBd2eF4

— MrDodo (@mrdodo_yt) August 19, 2019
theres a dedicated piss feature in death stranding. when you piss, a mushroom sprouts from where you pissed. you cannot pee in front of others or on others. if everyone pisses in the same spot, something good may happen. kojima really said all this stuff. this is real.

— rii (@icedsalt) August 19, 2019
watch the new footage and previous trailers below so you can pretend you understand what this game is about:

gamescom footage
trailers 1 - 4


death stranding is an action game built on the concept of ropes instead of sticks set in an open world, which also includes asymmentrical multiplayer functions (such as peeing to grow flora).


actors norman reedus, mads mikkelsen, léa seydoux, margaret qualley, tommie earl jenkins, troy baker, lindsay wagner, and hideo kojima's bff, geoff keighley provided motion capture, 3D scannings and vocal performances, while film directors guillermo del toro, nicolas winding refn, and edgar wright are also featured.


the title is a reference to the cetacean stranding phenomenon, and is a thematic feature of the game.


sources 1 | 2 | 3 | 4 | 5 | 6 | 7 | 8 | 9 | 10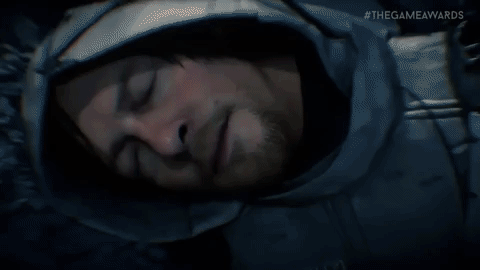 well, i for one can't wait to watch someone else play this game. ontd, do you wish more of your games were pee simulators? would that improve animal crossing: pocket camp for you?