5. In 2017 Khloe posted a picture on her IG to promote her clothing line. The picture featured model Slick Woods on her knees as Khloe stood hovering over her, petting her head like a dog. The photo caused outrage, with one commenter pointing out that it was both degrading and tone deaf.
----------------------------
4. Khloe attended a pimps and hoes themed party where she dressed as a pimp...or what appears to be a Kid Rock knock off. She had 4 black females accompany her to the party and thought it was a good idea to put them on leashes. One of the women, actress Meagan Good, recently spoke out against the photo -- stating how much she regrets the whole thing and that it was a mistake from 15 years ago when she was young.
---------------------------
3. In 2014 Khloe attended North West's first birthday party. It was a "kidchella" themed party. Khloe decided to attend the party in a Native American headdress. After posting a picture of herself wearing the headdress on IG, she was immediately met with outrage in her comments section, with one commenter pointing out that it only takes 30 seconds to research the cultural and historical significance of a headdress and why Khloe wearing one is both ignorant and shameful.
----------------------------
2. Khloe posted this to her Instagram this year. In a failed attempt at trying to deliver a message of love, Khloe posted a photograph with a list of people we should love. The list started out innocent enough...love thy neighbor, love thy Muslim neighbor, love thy black neighbor...but then one line read love thy RACIST number. HUH?! The post caused backlash and confusion among her followers. One commenter replied to the photo: "Imagine having a black daughter and telling people to love thy racist neighbor".
---------------------------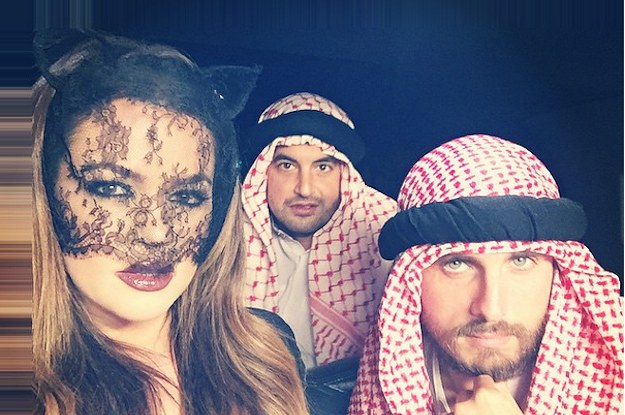 1. In 2014 Khloe posted a picture of herself with Scott Disick and their friend on Halloween. Scott and his friend both dressed as Arab Sheiks. While Khloe is not wearing the offensive costume here, she did take it upon herself to post the picture of the men wearing their costumes to her Instagram and captioning it "Sheik Pussy". Despite countless people commenting on the photo to tell her how offensive both the photo and her caption are and asking her to take the picture down -- it is still up on her IG page today.
Source:
1
2
3
4
5
6
7
8
9