When Taylor Swift released the lyric video for her
predicted #4 single
, there was an interesting lyric that was not clear until visualizing it: the lyrics indicate that she is singing "Why be mad, when you can be GLAAD?" She is apparently referring to the organization formerly known as the Gay and Lesbian Alliance Against Defamation.
The morning after the single was dropped, GLAAD began giving quotes to press organizations claiming that Swift's lyric change (which... are only clear when reading the lyrics) has led to an "influx in donations" for the non-profit organization. They spoke with multiple media outlets: including
TMZ
,
New York Daily News
&
Billboard
. One of the main talking points was that Swift fans were donating $13 - a nod to Taylor's favorite number, and her inability to donate to anyone without making it about herself. The stories have
continued throughout the week
, following the release of the LGBT+ centric
merch commercia
l of a music video.
The fact that pullquotes claiming that Ms. Swift had personally cause " donations to soar" started to appear on multiple websites so soon after an overnight song release left me with a lot of questions. How did they indicate that Swift caused the donations to rise? Is $13 more than the average GLAAD donation? What statistics were they able to pull in less than 24-hours that allowed them to confidently make such statements to the media?
So I contacted Anthony Ramos, one of the GLAAD representatives quoted in many of the articles, to ask some follow-up questions. After multiple requests for data I was finally given the following quote, which is pretty much the same thing that everyone else has been publishing without backup data:
I was not particularly satisfied with this answer, given that it was the same thing that everyone had been publishing all week. So I sent a follow-up email:
Asking for follow-up questions from an LGBT+ non-profit who's giving free PR to a straight, cis, white popstar is what Taylor would consider "stressing and obsessing" and I was sent an email from Rich Ferraro, GLAAD's Chief Communications Officer. Here is his response to my follow up questions, in which he explicitly asked to be quoted: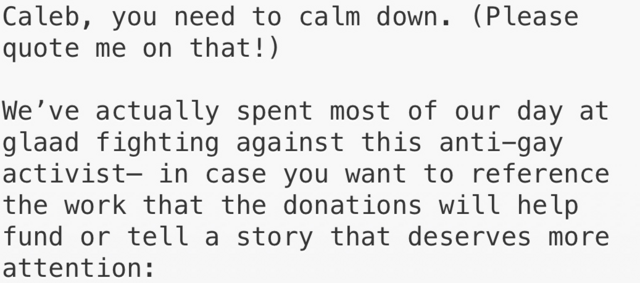 With a link to
this story
about Anti-gay activist Tony Perkins.
In the end, I still didn't get any clear answers. Maybe Swift's subtle lyric change did make a difference, you'll just have to take GLAADs word for it!
Source 1, 2, 3, 4, 5, 6 + My Email + Graphic by ME!™
ONTD, Would You Rather Be
Gay and Lesbian Alliance Agaisnt Defamation