Kendall Jenner vs. Bananas
Earlier this year during an interview with Jimmy Fallon, Kendall admitted she is not a fan of bananas. "My dad ate them all the time," she said. "And my dad carpooled Kylie and I back and forth from school, and would eat them in the morning, would eat them when he would pick us up, and would golf all day and would have bananas on him. So I think the smell just over and over started to get to me," she explained.
Zendaya vs. Water
In a 2017 interview with Harper's BAZAAR, the "Replay" singer admits she does not like water. "I don't drink coffee; it doesn't do anything for me. I don't drink energy drinks or soda, either. And I hate water. I'm a juice drinker but not fancy-people juice. Like Tropicana or lemonade—not fancy," she says.
Taylor Swift vs. Sushi
In 2009, Swift was asked if she liked sushi. She responded saying, "I have tried so hard to like sushi. I am the last person on earth who is not cool enough to be able to eat sushi. I can't swallow it." Since then, Taylor has been photographed leaving several sushi places throughout the years. Perhaps she's had a change of heart since then. Sushi Bar on the East Side where you at?!
Jennifer Aniston vs. Beets and Caviar
This one is a twofer: In 2016, Aniston said she hates beets and caviar. "Beets are not in our refrigerator, I'm not a fan. And you won't find caviar. Nope, you can't acquire that taste no matter how many people say that," she tells Yahoo! Food. "It's just a shitty taste," she adds.
Hilary Duff vs. Clams
In an interview with Refinery29, Duff admits that there are very few foods she won't eat. "I'll try anything once, and I'm pretty adventurous!" That being said, she is not a "huge fan of clams." She however adds that it's strange because she does enjoy eating mussels and oysters.
Gwyneth Paltrow vs. Corn
In a 2016 post on Goop.com, the actress detailed her New Year's detox: No gluten, dairy, caffeine, added sugar, red meat, shellfish, white rice,
and corn
. She allegedly cut it from her diet because many types of corn are processed and genetically modified.
Guess that means no Mexican street corn aka "elotes," your loss sis!
Bonus:
stewie_e vs. Pickles
Literally Nobody:
OP: "I can't stand pickles. They ruin sandwiches and any food they touch," says Stewie. "I guess over the years I've gotten used to pulling them out of burgers and sandwiches and I can 'tolerate' the after taste it leaves behind. But I would never voluntarily eat a pickle."
"Fuck pickles," added the OP to Literally Nobody magazine.
Part One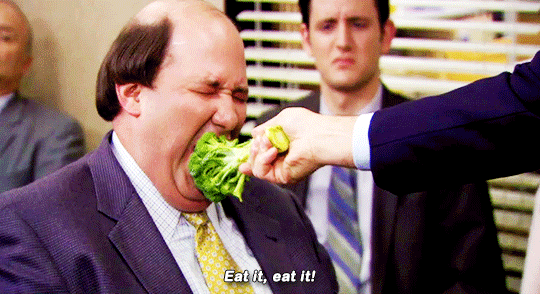 ONTD, which foods, drinks, fruits & veggies do you refuse to eat or drink?Sources:
1
|
2
|
3
|
4
|
5
|
6